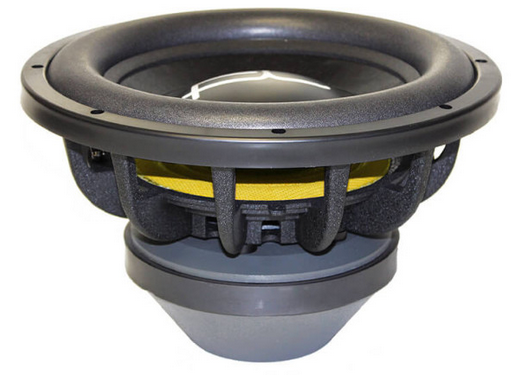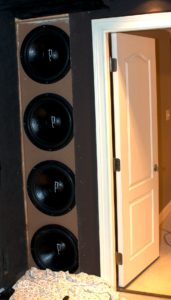 In my quest for the ultimate home theater bass, I'd always felt that my single Velodyne HGS-15 subwoofer wasn't delivering quite the low frequency experience I was expecting. Visits to local IMAX theater had me jealous. So I set out figure out what was missing. Much of what I learned is included in my other post entitled Ultimate Home Theater Subwoofer Designs, which describes Infinite Baffle and Folded Tapped Horn subwoofers. This post details how I installed an Infinite Baffle subwoofer system in my home theater.
I chose an Infinite Baffle subwoofer design because it delivers extremely low frequencies with perfectly flat response. Those low, chair-shaking / chest thumping / hair-on-your-head vibrating frequencies are what I was missing, and Infinite Baffle subs are the solution.
The drawback to Infinite Baffle subwoofers is that they require a very large separate adjacent space to act as the "infinite baffle" subwoofer enclosure. This needs to be a separate but adjacent space, such as an adjacent room, an attic, a crawl space, or closet. Typical Infinite Baffle subwoofer install locations include:
Subwoofers in ceiling, with back of speakers coming up into the space above
Subwoofers in the floor, using a crawl space or unfinished basement below as the enclosure
Subwoofers in the wall of the room, with speakers coming through the wall into an adjacent, seldom-occupied space
My home theater is in my basement, and the only option was to mount the subwoofers in the front right corner of the room in the 20-inch section of wall that overlaps with the mechanical room. I measured and remeasured, and it looked like I could just barely fit 18-inch subwoofers in the wall and still have about 1-inch of clearance between the rear of the speaker magnet and the water heater installation.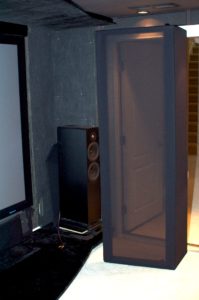 Subwoofer Selection
There are basically 2 options for Infinite Baffle subwoofers:
Of the two, the Fi Audio is both the better performer and the better value. This is because one 18-inch Fi IB3 moves more air than 2 of the 15-inch Dayton Audio IB-385. Also, the Fi has a larger cone surface area, a longer cone excursion, and a more powerful magnet. This made it an easy decision: I went with Fi.
The most difficult decision is figuring out how many subwoofers are needed. I wanted to make sure I had plenty of bass without maxing out speaker cone excursion and damaging the subs. Why have 2 subs when you can have 4 at twice the price? 🙂 So yes, I went with 4 of the 18-inch Fi subs. The reason being that the biggest investment in this project was my time, and installing 4 subs from the start added a negligible amount of time. I didn't want to risk a "do over."
In retrospect, I would probably have been fine with just 2 of the 18-inch Fi subs. After installation during equalization, I reduce the subwoofer gain by at least half to achieve a flat response in relation to the other speakers. But at least I have some sonic insurance that there will always be plenty of bass reserve if ever needed.
How large does the adjacent room need to be?
It's helpful to know what the smallest space requirement is for an Infinite Baffle sub installation. To determine this, look up the VAS specification for the subwoofer, which is measured in Liters. The required rear enclosure volume for each subwoofer should be 10 times the VAS or larger, but there is very little perforce difference if the volume is only 4 times VAS.
The VAS of the Fi Audio IB318 is approximately 12.5 cubic feet. So each IB318 needs only about 50 cubic feet minimum to achieve 4 time VAS and 125 cubic feet for more or more to achieve the ideal 10 times VAS. For my installation of four IB318s, the ideal volume is 500 cubic feet or more, and acceptable performance starts around 200 cubic feet. The total volume of my adjacent mechanical room approximately 2160 cubic feet, so it's more than large enough. You can read this post and this post on the Home Theater Shack forum if you want more details.
Building the Mounting Panel
The mounting panel needs to be extremely rigid to withstand the force produced by 4 huge subs. The 3/4-inch thick plywood available at most home improvement stores isn't strong enough – the mounting panel needs to be strengthened by laminating (gluing) two panels together. To increase the strength, two different types of wood are used. Individually, each panel was extremely wobbly. However, after laminating the panels together, the assembly becme rock solid.
Required Materials:
Preparing the Wall and Installing the Mounting Panel and Subwoofers
Amplifier Selection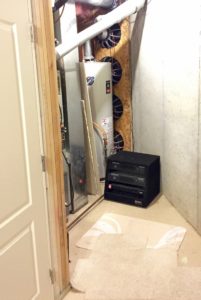 DIY subwoofers require that you provide your own amplification. The most cost effective option is a professional PA amplifier; they deliver huge amounts of power at a relatively low costs. There are downsides to these amps, such as louder fans, brighter lights, no IR remote input to turn them on or off, balanced XLR input connections (instead of conventional RCA connectors), and odd Speakon speaker cable connectors. All of these issues can be overcome, as detailed below.
Components:
I'd be remiss if I didn't give a quick overview of speaker impedance and how the subs are wired to the amplifiers. Each amplifier is in a bridged mono configuration with a 4 ohm load. The subs are 2 ohms each, with 2 subs wired in series to produce a 4 ohm load. On the EP4000 Amp, this is accomplished by flipping two of the configurations switch to enable bridge mode, and connecting the subs as shown in the diagram below.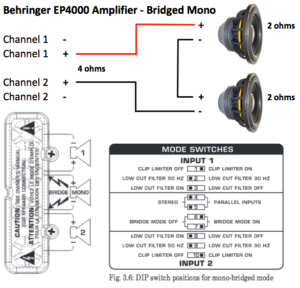 Frequency Response Equalization of Very Low Frequencies
My Anthem D2 receiver has some of the best sound equalization available. Unfortunately, it only works between 20 Hz and 20,000 Hz, meaning that it doesn't offer equalization for the lowest frequencies produced by an Infinite Baffle subwoofer setup. Fortunately, the receiver does have an option to pass these low frequencies to the subs, and the subs sound pretty good below 20 Hz without equalization.
So the simplest solution is to not worry about equalization below 20 Hz. But if your obsessive and want perfectly flat frequency response down to 5 Hz and below, this is the only setup I've found capable of doing that:
MiniDSP Balanced 2×4 or MiniDSP 2×4 Digital Signal processor
A Windows PC to create the test tones at different frequencies, read the levels from the microphone, and adjust the MiniDSP 2×4 equalization curves.
Wrap-up
Thanks for reading and I hope you enjoyed my documentation of my do-it-yourself home theater subwoofer project. Hopefully you can take what I've learned and apply it in your own home theater project. If you have any questions, please post them in the comments section below.