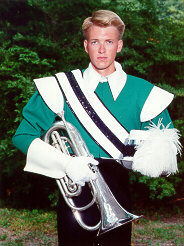 Summer, 1993
Reflections and Memories
The following list contains some of my reflections on the 1993 season.
The monthly drives to Chicago made for exhausting weekends. The first trip was over Thanksgiving weekend, 1992, when I auditioned. Most others were trombone players who read bass clef. For me being a euphonium player who frequently read treble clef, it was a much quicker learning curve for me. I believe there were about 20 baritone/euphonium spots and 22 people who showed up for them. No one was ever cut, a few people just stopped showing up after a few months. We had one or two open spots at the beginning of the season until some previous members decided to return for the season.
Every month after that, I would leave Louisville early Friday afternoon and arrive in Rosemont Friday night in time to make the end of the evening rehearsal. A night on a gym floor and then a day-long practice session. Then another night on a gym floor and then a half-day practice session.
The first several monthly practice sessions were in Rosemont but after that we were at NIU to use their football field for practice.
I moved to Rosemont for the summer practice session. I was going to live in the dorms but instead wound up staying with Ken Tonocki, who's mom was housing 2 other Cavaliers as well.
I didn't tell anyone it was my birthday because there was a tradition of lifting people off of the ground by their underwear until it ripped off. OUCH.
I remember how difficult it was for me too hold up my instrument when we were playing. Holding a marching euphonium or baritone for a long period of time is very difficult due to the weight of the instrument. However, I was surprised how much easier it was to hold it when marching drill on the field. The constant body movement is quite a help.
I remember the first time we ran through a complete show during practice at NIU. It was absolutely exhausting.
The first time we received our "new" marching shoes and wore them in practice, my feet were in sever pain. I believe this was the same night we ran through the show for the first time.
Our first of two summer tours. The first tour was out west to California. Bus "assignments" took place just before departure. It looked like I may not be able to fit on the horn bus and I started to be a little depressed by the fact. Scamper came out and said, "Get on the bus, we'll find room." I sat in next to the last row on the left-hand side of the bus, aisle seat (usually). My seat partner was Wes, Chris Carther and Matt Grey sat behind me.
Our first show took place somewhere in Illinois on the day we left for our first. We were terrible. We were just hoping to get through the show. Surprisingly, we easily beat everyone else there.
The marching fundamentals were difficult for me to start. It was almost impossible for me to focus so much attention on one thing over and over and over.
Our show in Phoenix was difficult because the air was so dry. I couldn't keep my mouth wet enough to play on a few different occasions during the performance. 0% humidity.
I can't remember where it was, but there was a high-altitude show. My lungs contained about half the amount of air necessary to play the musical phrasings in the manner to which I was accustomed. Certainly not the best show musically, at least for me.
Northern California: 110 degrees F during one of the practice days. Lots of water. Actually, water or head exhaustion was never a problem due to the staff frequently have breaks to prevent such situations.
A free day in San Francisco. A group of us caught Jurassic Park at the Kabuki theater. I was so nice to see a movie. We had dinner at the pier at a restaurant that was not as great as I had hoped.
We were at some relative small town on top of a plateau. I don't remember the name of the town, but I remember the people who lived there. They were so excited to have us there. We signed autographs on paper and t-shirts, had out pictures taken with people, and had people happy just to meet us. It was very flattering. I was the only time it ever happened.
Iowa. Nothing but corn and bugs. The insects were terrible, by far the worst of any start we visited, and we vested almost half.
It was very enjoyable to perform a Camp Randall stadium in Madison, WI. For me, this was (and is) the Mecca of stadiums as far a DCI is concerned.
Back to Rosemont for the end of the first tour. This included a 2 day break. I stayed in a hotel to enjoy the bed, the pool, and watch movies. This break was followed by community picnic for the 4th of July, and two parades for us. I didn't bother to drive home during the two days.
Off on the second tour: up north to New England. This was a very enjoyable area of the county this time of year. We practiced and performed at the Meadowlands stadium in New Jersey. Very cool.
On to Allentown Pennsylvania for DCI East. There were a lot of good practice sessions leading-up to the completion. We had a good first-round performance and were in first place. Our second round performance, however, was simply amazing. It started to sprinkle rain at the end of the first piece. Maybe this improved our concentration. Everything gelled together. The corps was at a new level. We marched off the field and on to a holding area. It was quite a long march. As soon as we were given the "at ease" command, everyone erupted into an unprompted celebration. This was an awesome experience. We won DCI East.
Charlotte, NC: This was the show I wish I could erase. In our opener, I was part of a diagonal line that marched (actually, it was more like ran) across the field, created a box, and then immediately collapsed into a company front. When I was running, my left knee wobbled during one stride. I thought, "Wow, that was a close call. I could have fallen." During the next step with my left leg, my knee completely collapsed. I don't remember falling but I'm sure it was quite a skid at that speed. All I remember is looking upwards and wonder how I got where I was. I jumped up and started running toward my spot. At this time, the box was collapsing into the company front and I was in the middle of the box. I quickly turned, faced forward raised my horn, and joined the front from where I was standing. I was extremely worried, because everyone was sholder-to-sholder and I was squeezing in about 4 yards away from my intended spot. It worked well; others made room. My friend Matt Grey, who could not march that night due to an injury, told me that if I had raised my horn higher, it would have been almost unnoticeable. I was really trying to squeezing in. I marched to may next spot and was fine after that point. I didn't play for the next 8 or so minutes. I only felt comfortable enough to add music during the last minute of the show. My knee is still slightly stiff to this day. That part of the show scared me for the rest of the season, but I never had another problem.
Charlotte, NC: After the show, I felt terrible. A lot of the guys helped cheer me up. Then, one of the instructors decided to prove his worth by pulling me aside and yelling at me. This guy never had marched for the Cavaliers and I didn't have that much respect for him as a person. It still hurt. My friends heard and were there for me. Everyone (save the one guy) was very supportive. Jeff Feidler saw everything unfold on the field (some instructors did not) and joked about it on the bus afterwards when he was giving a recap of the show an scores.
Elizabethtown, KY. My home town. I didn't know that we were going to be stopping there! It was marked "undetermined" on the calendar. The corps directory, Jeff Feidler, didn't tell me so it was somewhat of a surprise. It was odd to be marching on my high school practice field again. It was great to see so many of my friends. This was the first run-through of a show that was "perfect" for me. I didn't make one single mistake of which I was aware. This was a great feeling.
Bloomington, IN: This was my "home" show; the day after being in Elizabethtown. All of my high school and college friends attended this show to see me march. The corps was getting very good at this point. I had my first "perfect" performance. The home-side of the stadium was completely full, probably the large crowd ever for me. The crowd was also the loudest I had ever heard. It was such a great feeling to have that many people cheering so loudly for us. We were announced as finishing second, there was a gasp, and then a huge applause. When Star of Indiana was announced as being first, these was some booing and less cheering than for us. I felt bad for them – they are from Bloomington – but I appreciated our reception. It was great talking to my friends from home after the show. They were very complimentary. My dad was unable to make the show because he had just been appointed to the State Wildlife Commission and could not get out of the weekend-long meeting. He was sorry that he couldn't come. I wanted him to see the result of all of my hard work and hear all of the people cheering. I knew that he wasn't a big fan of music, especially instrumental, but he still came to a large percentage of my performances in high school and my symphonic band performances at UofL. I guess I thought it would make him more proud.
West Virginia: This was the dirtiest, most humid place we visited. We were stopping along the way; there were no shows in the area. It was miserable because perspiration would not evaporate. Clothing was completely saturated. It was no fun. I was glad to leave.
Atlanta: A fee day. I was able to visit the Underground in Atlanta and enjoy a nice barbecue rib dinner. I don't remember much else about Atlanta.
Mississippi: After Bloomington, we started making our way south to DCI finals in Jackson, Mississippi. We had a good practice facility reserved, but the Star of Indiana stole it from us by offering more money. We found a school about 40 minutes outside of Jackson and were there all week. It was hot and humid, but not as bad as West Virginia.
DCI Quarter-Finals: I was nervous and I had spaghetti for supper that didn't agree with me. I lost my supper before the performance. This was the only time this ever happened to me all season. We placed 4th place that night, as I remember. We were pretty far out of first. It became clear that we didn't have enough time to fix things. I had an almost-perfect performance; I can't remember what the extremely minor mistake was.
Practice the next day was very casual. This was by far the most relaxed practice session we had ever had. We were joking around and enjoying the last few days of the season. It was impossible to make up the point deficit, so we relaxed slightly.
DCI Semi-finals. An absolutely perfect show for me. Probably the best ever of the 1993 season for us. The Blue Devils, who were 0.1 points behind us in quarter finals, were now 0.1 points ahead of us in semis, putting us in 5th place. We wanted 4th back.
We had a decent day of practice, but didn't kill ourselves. We were still enjoying the moment. It was weird because when we packed-up to go, we were packing for good. This was the beginning of our good-byes.
DCI Finals: It was raining a little. The field was very wet and slippery. We were hoping to capitalize on our great rain performance at Allentown for DCI East, but it didn't work. We had a lot of falls on the field due to our extremely fast drill. I had a perfect performance, but Geoff the Contra guy counted to 8 instead of 16 as we made our diagonal stretching the entire field. He stopped right in front of me. Derek Clanky, behind me, started yelling and Geoff started moving again.
During the awards ceremony, each corps played a piece in the direction of the champion corps, the Cadets. Between us and the Cadets were the Star of Indiana. They, and most other corps, were did not stand at attention while other corps were performing. We were given a full and complete license to play as absolutely loud as we could, because we were obviously not being judged. I don't remember which piece from our show we played, but it had some very loud portions. The Star of Indiana members were just a few feet in front of us and they were loving every second. I remember a contra player leaning backwards with bent knees and slightly spread legs. He was waving his hand, pulling them towards his smiling face, conveying to us that he liked it and wanted more. It was all the more motivation to deliver. I considered the Star of Indiana, during our final performance of the season, to be our most gracious and motivating fans of the season. Thank you. Your involvement with DCI has been missed.
After our final performance, we marched off of the field, removed our uniform for the last time, put away our instruments, and said our good byes. At this point many people had already started to dissipate and the remaining were scrambling to find those few remaining friends. I was very strange to be thrown back into the reality of the rest of the world. It took me several weeks to adjust.
The following Thanksgiving, I returned to Rosemont for auditions. I knew that if received a job offer for an internship, I probably would not be able to march but I wanted to keep me options open. A did receive an offer from General Electric, committing me to working for the next 2 years. It was nice to see some of my friends again for one last time. I did attended the banquet a few weeks later in Rosemont (or maybe it was the same weekend). I guess that turned out to be my true last goodbye.
It was the most physically fit I had ever been.
It was the most tan I had ever been.
It was the most blond I had ever been.
It was a fantastically great experience.
I only marched one season. I would have liked to have gone back for another but I had to get on with school and the rest of my life. It's amazing how everything else stops when you make that commitment to marching.
Pictures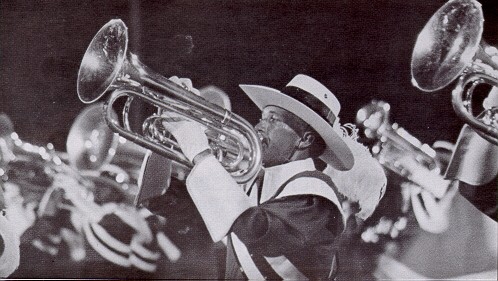 Here is a picture of me during a show way back in 1993. It was the darkest tan and lightest hair color I ever had. 12+ hours a day in the sun will do that. Here are some more pictures.
Music from 1993
To hear the entire show and shows from past years, you can order the Planets to Planets: 1985-1995 CD from the Cavaliers Web Site.
Sights and Sounds from the '95 Season
Audio Clip:
The opening section of The Planets by Holst (159 KB mp3)
QuickTime Video Clip (2.0 MB)
Closing 20 seconds, same show
Miscellaneous General Information
Many people are unfamiliar with Drum and Bugle Corps. First of all, it's not exactly a marching band. Yes, there are similarities, but the musicians with a corps are all brass and percussion, the shows are much more physically demanding, and the amount of time spent practicing is much higher. Generally, the shows are considered to be the best of their kind,.
Here are a few specifics regarding drum corps:
The schedule of a typical day:
11:00 pm – get on the tour bus and drive to the next town, usually about 3-4 hours away
3:30 am – unpack your bed role and crash in the gym of whatever high school you happen to be staying
8:00 am – stretching, running, breakfast
9:00 am – practice until 12:00
12:00 pm- lunch
12:30 pm- practice until 5:30
5:30 pm – supper
6:30 – 11:00 pm – either go and do a show or have another practice session
This was the schedule, 7 days a week, for 3 months straight. (We did get 2 afternoon/evenings off during the season.)
What it is like to march a show:
The show was a 10 minute work-out involving marching, running, and choreography, in perfect formation, while carrying a large brass instrument, while holding your breath and playing every note, while making it all appear effortless. It was not.
How much you are paid:
Zero. Nothing. Zip. No one gets paid to march. Most people typically pay to help cover expenses for the season, which was several hundred dollars in 1993.
The the bugles – the brass instruments
Soprano (similar to trumpet)
Tenor (Melophone / flugle horn, similar to a frech horn)
Baritone (similar to a concert baritone and a trombone)
Euphonium (similar to a concert euphonium)
Contra Bass (similar to a Tuba)
All bugles played in the key of G, but now B-flat instruments are becoming common
Typical performance locations:
The season I marched, we traveled from Chicago (home of the Cavaliers) to California, to New Jersey, to Louisiana, and everywhere in between. We performed at high school, college, and professional football stadiums.
Typical sleeping locations:
Usually on the floor of a local high school. We did get to sleep in dormitories with beds a couple of nights that summer and there were a few long nights spent entirely on the bus.
Crowd sizes at shows:
There were as many as 40,000 spectators at the largest shows and as few as a couple hundred at the smallest local shows.
Television coverage:
In 1993, the corps performed live on national television (PBS) to an audience of 20 million on Finals night of the World Championships. Unfortunately, this was the last year for the live broadcast for quite some time. The current year's Finals night performance is still broadcast every Thanksgiving by PBS and the live finals show broadcast has resumed.
Cavalier championship seasons:
The Cavaliers won it all in '92, '95, and again in '00 and '01 and few times after that.
Results for the 1993 season:
5th in the world was not too bad. It seemed like we were about 2 weeks in preparation behind the top 2 corps. Or maybe the low resulting placement was just because I marched.
Drum Corps Links:
General Info about how I got into playing the Baritone/Euphonium:
I first had musical aspirations in the the 6th grade when I became curious about playing the trumpet.  When I had my audition for Junior High chorus, I purposefully sang terribly so that I would not be picked for choir but rather could choose band as my musical elective.
I joined the band in 7th grade and started playing the trumpet.  I was not that great and I soon received braces, making the trumpet even more difficult to play.  So, I switched to the baritone / euphonium in the 8th grade.  I still was not great and continued that streak until the end of 9th grade.  At the end of the year, the two seniors (Joe and Lorie) graduated and no one but me was there to play the baritone part, so I practiced a little.  I remember Lorie (at least I guessed it was her) placing her hand my shoulder as she passed by me during the processional march.  It felt like a passing of the torch, so I decided to practice even more.
That next year, I really learned how to play and took on more of leadership role.  I joined the church orchestra and the pep band and was picked to play a solo in the concert band.  During my Junior and Senior years, I gained some more skill, did some more solos, made the All District and All State bands , and received a small musical scholarship to the University of Louisville.  I played in the Concert and Symphonic bands for 4 years but focused on my major, engineering.  I also devoted a summer to Drum Corps, marching for the Cavaliers.
Since graduating from college, there hasn't been a lot of opportunity to play the euphonium.  In fact, demand has been zero.  I decided to buy an acoustic guitar to channel my musical energies but I guess I just don't have too much energy left because I can still barely play.  Hopefully, I'll find some more time to devote the the six string and enjoy playing an instrument the way I used to.  I don't think I'd be where I am today without the benefits from the experineces I gained from playing and performing.