After almost 4 years of anticipation and about 4 months on the waiting list, my quest became a reality. On July 25, 1998, I drove home my new Porsche Boxster.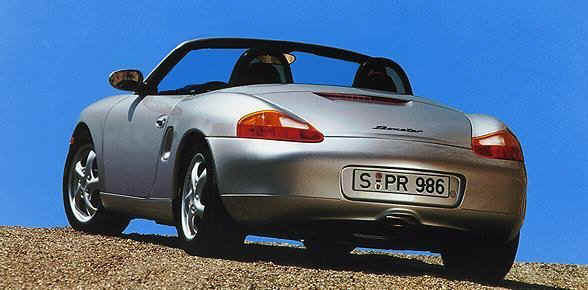 Configuration of my Car:
Ordering a car directly from the factory has its advantages. I was able to pick exactly which options I wanted. I spent quite a bit of time at the Porsche section of the (now defunct) Microsoft CarPoint website choosing options and understanding pricing, although many options were not listed.
Here's my final decision, as shown on the original Porsche Cars North America Pro Forma Invoice:
| | | |
| --- | --- | --- |
| Option Class | Option | Unique Option Description |
| BSEMDL | BASE | Porsche Base Model |
| OPTION | CO2 | U.S. Standard/Emissions |
| BDYCLR | X1 | Arctic Silver Metallic |
| OPTION | M6A | Black Floor Mat With Red Logo |
| OPTION | P14 | Heated Front Seats Package |
| TOPCLR | V9 | Black Top |
| OPTION | 580 | Non-Smoker Package |
| INTERI | AZ | Sport Seats Lthr Black + M-P69 |
| OPTION | P63 | Sport Package |
| OPTION | 396 | 17-inch Wheels Boxster-Design |
| OPTION | 551 | Porsche Windstop (Deflector) |
| OPTION | 490 | HI-FI Sound Pkg/with Speakers |
| OPTION | 454 | Cruise Control |
| OPTION | 535 | Remote Control Alarm System |
| OPTION | 688 | AM/FM Radio with CD Player |
| OPTION | P69 | Sport Design Package |
The Boxster FAQ contains descriptions and pictures of the options listed above.
Fuel Economy
I've been tracking the fuel consumption and mileage of my car since day one and periodically entering it into an Excel spreadsheet. After totaling up the miles and gallons of fuel over the past couple of years, I came up with following fuel consumption numbers. The indicated fuel economy is based on the odometer readings, the actual fuel economy is based on odometer readings after the correction factor is applied.
Actual Average Fuel Economy: 21.85 miles/gallon after 12,038 miles

Click here for the complete Excel spreadsheet.
Speedometer / Odometer Correction:
As many Boxster owners have reported, the indicated speed on the speedometer (and therefore recorded mileage on the odometer) is a little higher than the actual value. I had this problem corrected with a new calibration during my first warranty visit. To find out exactly how far off the reading were on my car before the calibration update, I took it through the Odometer Test Course on Highway 31, just north of Columbus, IN. Using the information gathered, the following was calculated:
Mileage Correction Factor: 0.9696 +/-0.0007
This means that for an indicated speed of 60.00 miles/hour, the actual speed is really 58.17 miles/hour. For an odometer reading of 5,000 miles, the actual distance traveled by the car was really 4849 miles. By recalibrating, my car stopped showing accumulated miles that were higher than what the car had actually driven.
Related external links:
Porsche – the official web site
Porsche Pete's Boxster Board – a great place to get information from Boxster enthusiast
Boxster dot Org – a listing of some of the better non-official Porsche sites
Porsche TechArt – aftermarket performance equipment
My Porsche – order printed Porsche manuals; kinda expensive
Beechmont Porsche – the dealership from which I purchased my car
List of Boxster "Hacks" – a collection of how-to instructions to make minor modification to your Boxster
Sun Coast Porsche – the best place I've found for ordering Porsche Parts
Brake Change Info – complete info for servicing the brake system
SpeedBleeder – For your 30k mile service, order 8 of part number SB1010S to more easily change the brake fluid