I created this list because:
I'm frequently asked for technology recommendations and decided to keep a consolidated and updated list.
I wanted to speed-up my software download/install process when setting up a new computer.
I've personally tested everything on this list and feel all of it offers the best performance for the price.
Many of the software products are free and open source; the developers deserve more recognition than I can give them this is a start.
Home Theater Hardware:
High-End Video Projector: Anything from the JVC D-ILA line. Unsurpassed black levels, good brightness, amazing picture detail.
Budget Video Projector: Epson Home Cinema projector.
Projection Screen: Carada Criterion series screens offer great performance at a reasonable price.
Flat Panel TV: LG OLED TVs offer the absolute best picture quality due to infinite contrast ratio. They're also impossibly thin. But for extremely bright rooms, I recommend the Samsung QLED quantum dot TVs due to their extreme bright levels. HDR support is the biggest performance feature of these new TVs; 4k is nice to have.
Flat Panel TV (extremely bright rooms only): For extremely bright rooms, I recommend the Samsung QLED quantum dot HDTVs due to their 2,000 nit bright levels in 2017 and new models.
Purchased Subwoofers: SVS Subwoofers are amazing, especially considering the price. I recommend the PB12-NDS model for budget-oriented systems or two of the PB13-Ultra models for the ultimate setup.
DIY Subwoofers: If you have the time and skill, you can build an amazing subwoofer system that surpasses commercial offerings, but they require building large or special enclosures. Infinite Baffle subwoofers offer the best low frequency response; Horn-loaded subs offer the highest output (highest efficiency.) Here are details on my Infinite Baffle subwoofer installation.
High-end Home Theater A/V receiver: The latest and highest-end Denon Receiver. I've tried the ultra-high end gear that costs several times what this Denon receiver does. While there are some small gains in sound quality, there are big drawbacks in usability and reliability, especially when it comes to HDMI synching/switching and firmware updates. The small improvement in sound quality just wasn't worth the constant HDMI sync issues every time I changed sources or video formats. Denon is bullet-proof, reliable, and is pretty much indistinguishable sound quality wise from my previous equipment. The Audyssey XT32 room correction does a great managing multiple subwoofers and correcting the sound for the room in general.
Budget Home Theater A/V receiver: Which ever Denon A/V Receiver fits your budget. I highly recommend that it at least have HDMI v2.1 or higher switching, 4k resolution pass-through, and Dolby Atmos/DTS:X immersive audio.
Universal Remote Control: Logitech Harmony One Ultimate. I like that it is a remote with physical buttons that click, has an RF base station so you don't have to aim it at components, and it also has an iOS/Android app that offers the same features as the dedicated remote.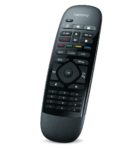 Surge Protection: Panamax surge protectors are great for both computer and home theater. One nanosecond response time to incoming surges; protection for every type of cable entering your house – enough said.
Home Network Music Player: Sonos Music Player because it is so simple to use, has every feature you could want, works with every music service out there, and sounds fantastic.
DVR / Movie Player: After years of After years of building my own PC-based solution, I've given up. It's hard to beat an nVidia Shield TV running Plex Media Server and recording from the antenna using a SiliconDust HDHomerun Connect tuner.

Stand-alone Digital Video Recorder (runner-up): TiVo Bolt+ and TiVo Mini with off-the-air antenna.  It just works.  The advanced features that SageTV has simply aren't there; very little functionality has been added over the past few years. But if you just want something that works and records your TV, TiVo is hard to beat.

Stand-alone Digital Media Player (runner-up): Roku Media Players are the best for most people because it supports Netflix, Vudu, Amazon, and Hulu. But if you have a lot of iTunes content, an Apple TV is the way to go.
Mobile Phone:
Apple iPhone: I prefer the simplicity, security, and integration of the iPhone to the flexibility and variation of the Android phones, but you can't go wrong with either.
Cored Headphones: I finally purchased a pair of Westone W5 balanced armature in-ear monitors after years of longing. They produce the most amazing sound I've every heard. They are extremely efficient and don"t require a separate amplifier to produce adequate volumes. Plus, the cord has a microphone and track/volume control buttons. For serious music listening, there is no substitute.
Completely Cordless Headphones: When it comes to exercising, I don't like cords and I'm willing to sacrifice sound quality. Bragi The Headphone is the best option I've found. The battery life is solid at 4+ hours and the signal is steady. I keep the case attached to a USB battery pack in my bag to keep them charged.

General Computer Hardware:
Home Network Router: Apple Airport Extreme.  I spent hours configuring my Linksys routers with various versions of DD-WRT custom Linux firmware. The features it promised were impressive; the amount of work it required to get them configured was immense; the reliability that resulted was poor. I finally gave in and purchased an Apple Airport Extreme and was shocked when my wireless throughput on my Macbook Pro doubled and the battery life on all my portable WiFi devices improved dramatically. Plus, configuration was quick and easy. The Apple routers cost more, but the ease-of-use and performance benefits are worth it.
General User Laptop: Apple MacBook Pro. I currently use a 13-inch Space Gray touchbar model.
Computer Monitor: The largest Dell LCD widescreen you're willing to afford. I currently use a Dell Ultrasharp 4k 27-inch monitor.
Ergonomic Mouse: I recommend this only if you have wrist/joint pain in your hand! 3M Wireless Ergonomic Optical Mouse (medium/large hand size, small hand size)
Surge Protection: Panamax surge protectors are the best for both computer and home theater. One nanosecond response time to incoming surges; protection for every type of cable entering your house – enough said.
Digital Camera / Photography Hardware:
Daily Use Digital Camera: I hate to say is, but I use my Apple iPhone as my primary camera. It's always with me and it's easy to use. My D-SLR takes better pictures, but it requires more work to process them. For that reason alone, I use my iPhone more than any other camera.
High-end Digital Camera: Any Digital SLR is almost certain to be an improvement over other options. I full-frame Nikon with the SnapBridge app transfer images to your smartphone via Bluetooth is what I with I had, along with a super-fast prime lens, wide angle lens, and zoom lens.