Resolved Out-of-Warranty Issues
Problem: Foam blowing out the vents, temperature control of the heating/cooling air no longer works.
Dealer: My garage
Date: March-2017
Description:
The flapper that diverts air through or around the heater core, and the flapper that switches between recirculated and outside air, are covered with foam. When the foam starts to dry-rot due to age, it falls off and starts blowing out of the vents. Even worse, the metal plate to which the foam attaches is not solid but rather has multiple large opening in it, meaning that air blows through the flaps and is no longer diverted. So hot and cold air are always mixed, and inside/outside air is always mixed, and the air temperature can no longer be adjusted. I used this method to repair/recover the flaps, which just required removing the radio and is much easier than removing the entire dash and HVAC unit.
Problem: Bolts that hold the convertible top receiver to the windshield header fell out. Cast brass nut inserts split and failed.
Dealer: My garage
Date: November-2016
Description:
All of the bolts that go into the windshield header are likely to eventually fail. This is because the nuts inside the windshield are cast brass and don't hold up over time. The only way to access the nuts is to remove the windshield. To permanently resolve the problem, drill-out and extract the brass nuts and then install M6x1.0 x 15mm long rivet nut inserts using a Rivet Nut installer tool. Full installation instructions here.
Problem: Random electrical problems, electrical components not working, gauges acting strange, HVAC acting strange, engine would die when brake pedal depressed or when placed in reverse.
Dealer: My garage
Date: June-2016
Description:
Lots of weird random electrical problems. Caused by the replacement ignition switch not passing sufficient current. Was previously replaced June 2004; replacement part had more severe failure mode than original component. Problem permanently fixed by installing new ignition assembly casting and new-style ignition switch used in 2004 Boxsters. Installed Steering Lock Assembly with Ignition Switch part number 996-347-017-07-M100. Installation instructions here.
Problem: Windows would roll down about 3 inches while driving
Dealer: My garage
Date: June-2006
Description:
The convertible top micro-switch was being tripped when driving over bumps. The switch inaccurately sensed that the convertible top latch was open. Replacing the micro-switch did not fix the problem. The micro-switch had to be modified to add extra padding (a piece of electrical tape) around switch button, making sure the top latch fully engaged the switch when it was closed.
Problem: Large amounts of white smoke out of the exhaust after hard, high engine speed acceleration followed by immediate closed throttle.
Dealer: My garage
Date: Aug-2005
Description:
Engine oil level over filled. This caused the Closed Crankcase Ventilation system to deposit engine oil mist into the intake manifold when there were high levels of vacuum (closed throttle at high engine speeds). Solution: lower oil level, clean out intake manifold.
Problem: Ignition switch will not return to the Run position from the Start position, resulting in no accessory power.
Dealer: My garage
Date: June-2004
Description:
Ordered a replacement for electrical portion of ignition switch from Autohaus, part number 4A0 905 849. Update: do not install this part – it will fail in a different way than the original part. See updated failure/replacement above for June-2016.


Problem: Convertible top not closing properly
Dealer: Carlton's Garage
Date: Jan-2004
Description:
The top seams would not line-up properly with the rails above the side windows, just as it was before. I tightened the tension cables for the top, located at the sides of the compartment below the back window. Also adjusted a small arm (held in place by two torx screws) located near the side window frame, accessible when the top is 70% open. Problem resolved.
Resolved Warranty Issues
Problem: Abnormal wear of the convertible top fabric
Dealer: Beechmont Porsche
Date: Jun-03
Description:
The top was experiencing abnormal wear in the fabric at the outer edges of where the wear window fold occurs. Top replaced under warranty.
Problem: Convertible top not closing properly
Dealer: Beechmont Porsche
Date: Jan-00
Description:
The top would not close properly above the drivers window. This problem occurred the first time I closed the top on the day I brought the car home.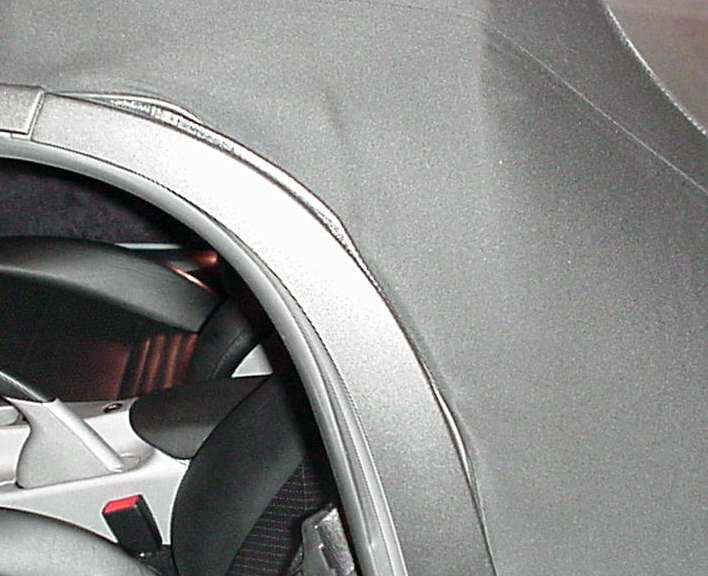 Problem: Storage compartment metal strip
Dealer: Beechmont Porsche
Date: Jan-00
Description:
The metal strip in the storage compartment below the convertible top fell out.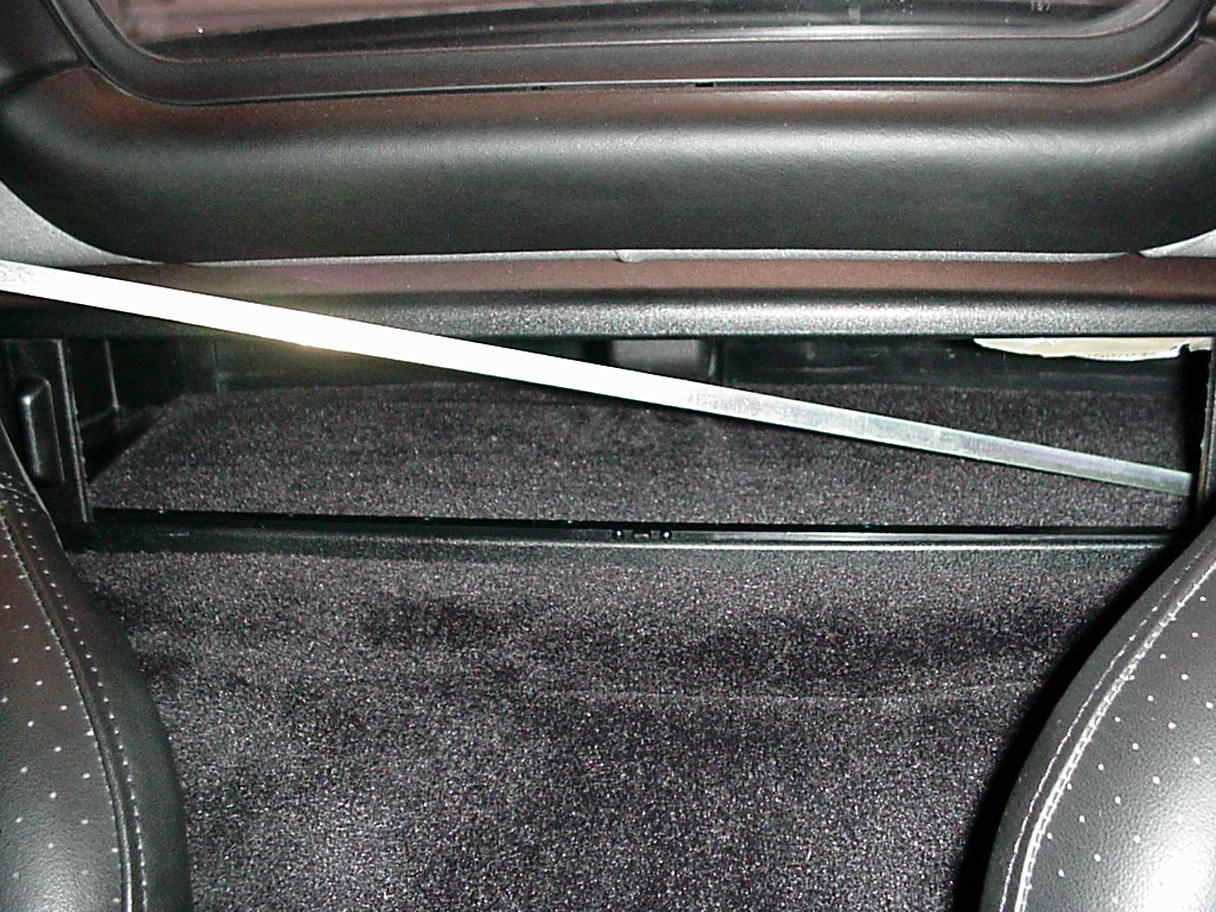 Problem: Calibration Update (Vehicle Speed Correction)
Dealer: Beechmont Porsche
Date: Jan-00
Description:
The indicated vehicle speed is approximately 5% higher than the actual vehicle speed. The odometer reading was approximately 5% higher than the actual miles traveled. Porsche released a new calibration that corrected the problem. Click here for more info on the problem from my fuel economy page.
Note: The correct speedometer reading for 2.5L engine is 42 miles/hour in 3rd gear at 3000 rpm.
Problem: Drivers window would roll-down on it's own after parking the car
Dealer: Tom Wood Porsche
Date: Jun-00
Description:
Several time, I returned to my car to find the drivers window rolled down about 6 inches. The motor for the window was replaced and the problem has been resolved.Problem: Replaced seal on fuel filler cap
Dealer: Tom Wood Porsche
Date: Jun-00
Description:
As part of a campaign from Porsche, the seal on the fuel filler cap was replaced during a warranty visit. I did not notice a problem with the filler cap.
Porsche 986 Boxster Idle Problem:
Engine surges and starts to die when returning to idle
Dealers: Beechmont Porsche, Tom Wood Porsche
Service Dates: 1/00, 6/00, 7/00, 5/01
Status: Still not fixed
Link to PCA Question/Answer for similar problem
Idle Problem Update:
After 4 trips to 2 different dealers, the problem is still unresolved. Due to the extremely poor treatment I received at Tom Wood Porsche in Indianapolis, I decided to work exclusively with Beechmont Porsche in Cincinnati, OH.In June of 2000, I learned of a "DME upgrade" for the engine control software/calibration that would solve the problem. After 2 trips to Tom Wood, they finally tried to perform the update, realized that they didn't know how to do a full DME recalibration, and called the regional service representative.
They were told by the regional service representative that it wasn't new software, but rather a reinstallation of the same old software. It was previously believed that the initial software installation at the factory was incomplete and that reprogramming would correct the problem. This is no longer believed to be the case. According the the regional service rep, the "DME upgrade" didn't solve the problem on the last 3 cars with which he had been involved. I'm still waiting to have this problem resolved.
The vehicle was since taken to Beechmont Porsche in Cincinnati, OH and extensive testing was performed and a factory representative was involved. The conclusion was that a new calibration needed to be developed for the engine computer. I have since been informed that a new calibration will not be made available and that there is no way to resolve this problem.
Idle Problem Description:
Click here for an MPEG movie showing the problem. (290 Kb)
The engine speed will droop well below the intended 800 RPM after depressing the clutch when returning to idle. The speed will droop as low as 600 RPM, at which point the engine starts to stumble and die before recovering and overshooting to 1000 RPM and then returning to the standard 800 RPM idle speed. This problem happens almost every time the car returns to idle, to varying degrees, when the air conditioner is activated by the climate control system.
Idle Problem Duplication:
The problem occurs under many different driving conditions but can be consistently duplicated using the following procedure:
Coolant temperature 170 degrees F or above.
Ambient temperature of approximately 80 degrees F or above
Air conditioner turned ON to lowest setting
Drive in second gear at about 2000 RPM
Lift foot from throttle and allow engine to motor (coast) down to about 1200 RPM.
Depress the clutch when engine speed reaches approximately 1200 RPM
Idle speed will drop to as low as 600 RPM, the engine will shake, stutter, and start to die
Engine will then recover by overshooting to 1000 RPM and then returning to 800 RPM (normal idle speed)
Picture From Step 7: Engine speed drops to 600 RPM and starts to shutter and die after depressing the clutch while driving. (Engine speed of just below 700 RPM shown in the picture – it was hard to capture 600 RPM with the digital camera.)

Idle Problem Duplication – Secondary situation when the problem occurs:
1. Make a sharp turn to either the left or the right with the clutch pedal depressed.
2. The power steering apparently adds excessive load to the engine, and engine speed droops to about 600 RPM, starts to die, then over-compensates to 1000 RPM, and recovers to the desired speed of 800 RPM.
Graph of Idle Problem: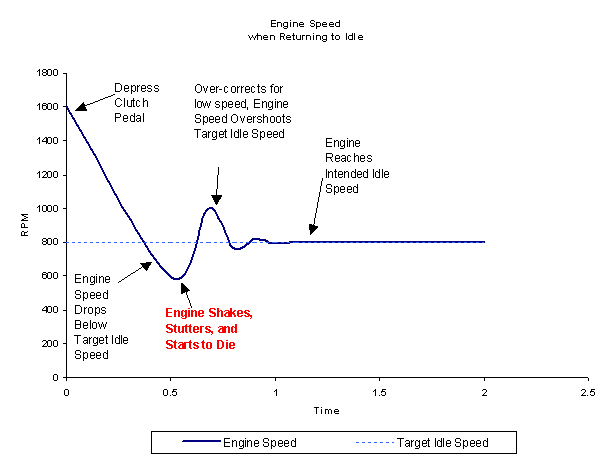 Porsche has identified this problem to be engine computer calibration related. Here is a list of other possible causes I was told were ruled out by Porsche:
1. Idle Air Bypass Valve Hysteresis (Sticking)
2. Mass Air Flow Sensor – Inaccurate at low engine speed transient conditions
3. Intake Manifold Pressure Sensor, Intake Manifold Temperature Sensor, or Throttle Position Sensor in-range failure/out-of-specification – could effect air flow prediction calculation (not likely, Mass Air Flow Sensor should perform this measurement)
4. Higher than expected accessory load from the air conditioner, etc.
5. Intake manifold air leak (not likely, would result in higher idle speeds, not lower)
6. Software expecting low accessory loads and/or gain is too slow to react at higher accessory loads. (not likely, problem would be much more wide-spread?)
7. Fuel injection quantity too low or Oxygen Sensor incorrectly reading Air/Fuel ratio (not likely a fuel system problem, most likely air-control related)
Dealer Experiences:
Beechmont Porsche – Cincinnati, OH: 2 visits – A rating
Provided a Rental Car free of charge
Technically competent
Researched factory service updates to find relevance to my problems
Very friendly, good service
The Dealership placed a follow-up / survey call to determine my satisfaction.
Tom Wood – Indianapolis, IN: 2 visits – D rating
Charged me for the rental car
Technician knew next to nothing about the Porsche Electronic Service Tool
Did not fix all of my problems after the first visit but told me that they did
Did not fully investigate my complaints that they did not understand how to resolve
The service manager did not call me back after my second visit to let me know what he had found from the factory service representative in order to solve my problem.
The Dealership placed only one follow-up / survey phone call — but they left a message and never called back. They did not call me after my first visit at all. I was never able to give them my opinion of their service.
Related Links:
Instructions for Replacing Air Filter
Instructions for Replacing Cabin Filter
Instructions for Headlight Removal
Instructions on how to replace Rear Main Seal (RMS) on a Porsche M96 engine