I think Microsoft should be given credit for single-handedly stimulating the economy. Consumer spending is down, most of the Black Friday deals are lame, but I'm purchasing things that have been on my Wish List for years.  Why?  Because I can get 25% cash back if I purchase an Ebay Buy It Now item and pay for it using PayPal.
This is such a good deal that I've I installed the Live.com search Add-on for Firefox and replaced Google as the default search engine.  I've found the search results to be just as useful as the Google results.  Live.com earned bought my loyalty. 🙂
Here are the details:
This discount applies only to buy-it-now items purchased with PayPal on Ebay.
Go to http://www.live.com and search for something like "wii".
You should see (at the top of the page in the Ad area) something that says "Live Search cashback" and an Ebay link and the 25% off offer.  Click the Link.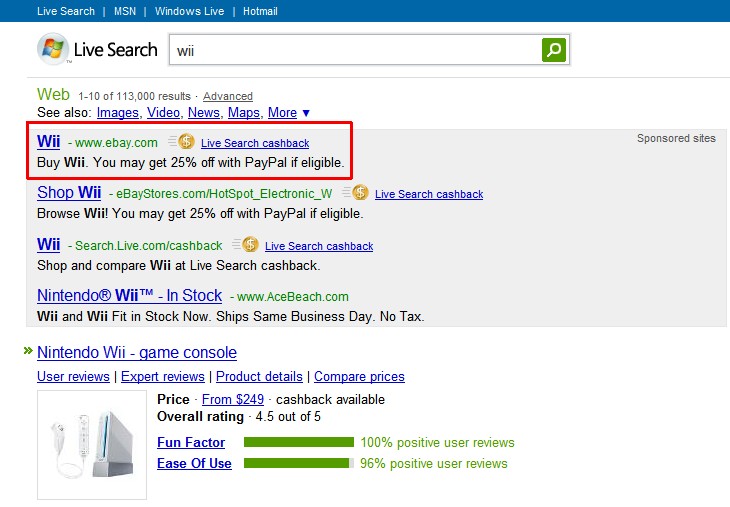 Once on Ebay, search for whatever you want (Wii, Nikon D90, MSI Wind, Sonos ZP90, etc.) and filter by "buy-it-now" items.  Purchase the item with buy-it-now and PayPal, and get 25% off. If the seller uses a third-party checkout, then the offer is not valid and you will be warned that the offer does not apply.  If they do use PayPal, the amount of the discount will be shown on the checkout screen before you pay.
This offer is good for up to $200/purchase and $2000/year.  The only catch is that you have to wait 60 days to get the 25% refund (to make sure you don't return the item.) This is good for up to 12 purchases on Ebay and then you are no longer eligible.
Apparently it was 35%-off a couple of months ago, then disappeared entirely, and now is back at 25%-off.  Who knows how long it will last. More details are available here:
http://pages.ebay.com/cashbackoffer/terms.html
Thank you Microsoft! (Who needs Yahoo! anyway? This is a much better use of that money.)