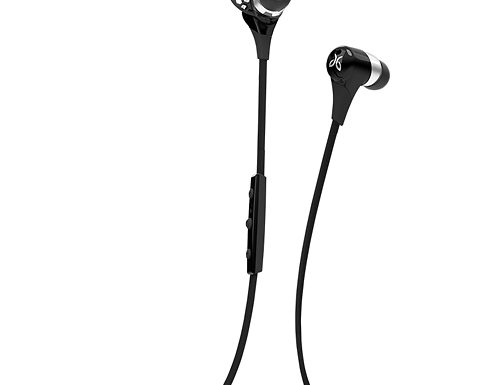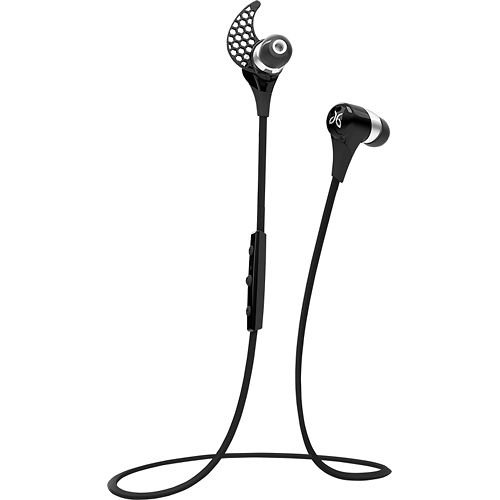 In September 2008, I reviewed the Jaybird JB200 Bluetooth headphones to great disappointment. Just over 4 years later, Jaybird released their latest model, the Jaybird Bluebuds X, with some pretty impressive claims on sound quality, fit, and battery life. The cord on my Klipsch S4i Rugged headphones are my only complaint with them, but it's a big one. So I found a nearby Bestbuy that had the Bludbuds X in stock and picked-up a pair to see how the new model stacks up.
Update 18-March-2013:  An hour and twenty minutes into my run, my headphones died – permanently. The battery was well over 50% charged. I could not get them to turn back on. I plugged them into the charger, and the green LED illuminated, suggesting that they were already fully charged, which could not be the case. Even with the green LED illuminated, they refused to turn on.  Obviously, this is very disappointing. I'll e-mail Jaybird and hopefully get the issue resolved.

Update 20-April-2013: Jaybird never responded to my e-mail so I called them. They said they would replace the headphones under warranty but that I had to provide a receipt. I told the representative that the headphones were purchased by my mother from BestBuy as a Christmas present and that I didn't have a receipt. He suggested that I have my mom go to BestBuy with her credit card to see if they could print another receipt. I asked why my Mom should have to spend an hour of her time getting a receipt because JayBird made faulty headphones. I was then told the receipt was needed to make sure the product was under warranty. I responded that the product had only been released for 4 months so it had to be under warranty. I was then told that the receipt was required to make sure the headphones weren't stolen. I stated that was a ridiculous policy that was very customer un-friendly, but decided additional debate would be pointless. I then stated that BestBuy would likely take better care of me than Jaybird. The representative agreed that I should buy a new pair and return the old pair, so I did. I assume the defective pair was returned to Jaybird by Bestbuy. I'm very unimpressed with Jaybird and their unwillingness to help customers. BestBuy took care of me.
Update 20-June-2016: My headphones failed again after they died during a run and would not power back on. Jaybird replaced them under warranty.
Pros:
Fantastic Sound Quality: The sound quality of the Bluebuds X is really impressive. There is absolutely no hint of compression artifacts from sending the sound over the Bluetooth wireless connection. There is no background hiss. Highs are very crisp and detailed; bass is strong. I'm guessing that Bluetooth 2.1 + EDR (enhanced data rate) helps facilitate this.
Comfortable and Don't Fall Out:  They fit very well. When walking around the house, they stayed in my ears well even without the retention cushions installed. But when running and sweating, the retention cushions were required to keep them from slipping out and were also comfortable.
Controls Located Where they Should Be: The control buttons are located exactly where they should be, which is about 3 inches down from the right earpiece. The buttons are pronounced above the control pad surface and easy to find. They depress with a discernible click.
Microphone Location: Unlike Apple and Klipsch headphones, the microphone is located on the same side of the control pad as the buttons, so when the buttons are facing outwards, the microphone isn't against your face.
Great iPhone Integration: The battery level of the headphones is shown on the iPhone menu bar and all music and sounds are automatically sent to the Bluebuds X. Volume controls work as expected (although the sound is paused for a brief moment while a volume reference beep is played.) Single clicks of the center play/pause button works just like Apple headphones. Pressing and holding the center button activates Siri, though there is quite a bit of delay between depressing the button and Siri being activated.
Voice Prompts Make Everything Easy: The pairing process was extremely easy: the recorded voice of "Jenna" gives directions and status updates during the whole process. Status updates are also given for powering on and connecting to a source device. No blinking lights or beeps to decode. I didn't have to consult the manual once and successfully paired with my iPhone the first time. I can't ask for anything more.
No Annoying Flashing Light: I hate headsets with annoying flashing LEDs to show that they are on. This is not a problem here; the LED only comes on during power on/off, pairing, and to indicate a low battery.  Pressing the volume up/down button will cause it to flash, and also let you check if it's on without turning it on if it's off.
Standard Micro USB Charging Cord: The Bluebuds use a standard standard micro USB cord, so you can share chargers with other devices. The charging port is hidden under a nice-looking plastic cover that is attached
Flexible Sizing: 3 sizes of different silicon ear tip sizes; 3 sizes of ear "cushions" to help keep them in your ears
Clips to Shorten/Wrap the Cord: A pair of clips allow the cord to be wrapped back over itself and hold it in place, resulting in a customizable cord length.
Sweat-proof: I had no issues during 2 hours of heavy sweat workouts. I'm assuming that I won't based on the lifetime sweat warranty. (See above for update; this turned out not to be the case.)
Nice case: I like the clam-shell case. It holds the Bluebuds on one side and has an elastic strap on the other half to retain the charging cord.
Flat Anti-tangle Cords: The cords are flat to help reduce the likelihood of them tangling. This worked very well in my experience. The charging cord is also anti-tangle.
Pairs with 8 Devices: 8 is a lot; I'm very happy that I can pair with my iPhone and my MacBook Pro. FYI, the Bluebuds use Bluetooth 2.1 + ERD (Enhanced Data Rate).
Cons:
High-Amp iPad Chargers will Fry the Batteries: These headphones don't conform to the USB charging spec. They are wired to request the full 2.1 Amps/12 Watts of an iPad charger, but they can't handle it. Charging them once with an iPad charger will cause the battery life to diminish to about 20 minutes. They should not be wired to request full USB current if they can only handle 0.6 Amps of current. For comparison, when an iPhone 4S is connected to an iPad charger, it is wired to draw only 1 Amp, and that is all the charger sends.
High Failure Rate: Reading the customer reviews on multiple sites, the common theme is that these headphones fail frequently.
Battery Charging is One More Thing to Do: Unless you recharge it all the time, these headphones will unexpectedly die on you at some time, regardless of how much battery life you think should be left. It's one more maintenance task to add to the list. They will slowly lose charge when powered off, so don't expect them to stay at 100% when unused. I've also had issues where the "20-minute shutdown warning" wasn't given (turned it off at a battery level high enough to not trip the warning, turned it back on after it apparently had drained below the warning trip threshold, and died about 15 minutes later.)
Occasional sound drop-outs. Around my house, about once every 3 minutes, the sound will drop out for about 0.5 seconds. It's brief enough to not be too annoying. This never happened when I was out for a run; the connection was flawless then. But around my house, it would happen with my phone about 12 inches from the Bluebuds. I assume it's due to interference from other wireless devices using the same spectrum, such as WiFi. But with cords, there are zero interruptions.
Bass is very good but not the very best I've heard: The bass sounds good. But it doesn't quite measure up to the awesome-but-yet-not-overpowering bass of my Klipsch S4i Rugged headphones. Most people wouldn't complain, but there is a little room for improvement.
Buttons are All the Same Shape: It's hard to figure out which button your finger is on without first  right button feeling around on the control pad.  This is because they are all 3 the exact same shape and size. I prefer the discrete shapes of plus, triangle (play), and minus used by Klipsch.
Blocks external sound: When used with the silicon ear tips, the sound quality is great, but external sounds (such as traffic) are significantly reduced. When out for a run, this is a concern. Removing the silicon tips and using only the retention cushions address the issue, but at the expense of any bass reproduction.
Some controls not intuitive: Double-clicking the center button redials,  holding volume up is next track, holding volume down is previous track. This is confusing because on wired headphones with iPhone control, double-clicking tehe center button jumps to the next track and triple clicking jumps the previous track.
Conclusion:
When out for a run, the lack of a cord is fantastic. Being able to change my shirt or put my back over my shoulder without pulling the cord is more of a joy than I thought it would be. It solves my first-world problems. But, it's a trade-off between the annoyance of a cord vs. the annoyance of the occasional drop-out when around other wireless signals such as WiFi. And I'm surprised that I'm willing to live with that trade-off.  For critical music listening, I still prefer my Klipsch S4i Rugged headphones, but when exercising (which in when I used my earphones the most), the Bluebuds X rule.
Factory Reset Procedure:
If you're having issues with your Bluebuds X, this Factory Reset procedure might be the solution. To perform a factory reset on your headset you will first need to get them into pairing mode by holding down the middle button until you get the alternating flashing RED and GREEN lights (some users report having to initially hold down the volume + and volume – buttons instead.) Once in pairing mode, press and hold both the volume + and volume – keys at the same time until you see an orange flash and a beep (for about 8-10 seconds). The orange flash indicates the reset was successful. This will reset them to factory condition wiping out any software issues and allow them to operate normally again. Once reset, any info they've stored previously will be deleted. You will have to delete the Bluetooth profile from your device and re-connect them like new.
What Should You Buy Instead?
The endless complaints in the comments on the poor reliability of these headphones make them hard to recommend. Given the high price and poor customer support, I high recommend going with something else. Here are two different options:
Option 1 (value): Mpow Cheetah Gen 2 Bluetooth 4.1 Headphones – with Sweatproof Nano-coated Circuit Boards ($27.99) – Awesome headphones for the price.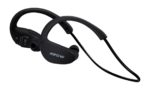 Option 2 (high-end): Beats Audio Powerbeats 2.0 ($149) – I'm not a huge fan of Beats and haven't tried these, but a lot of people like them.