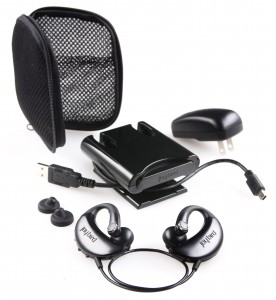 I've been searching for some wireless headphone to use while watching video on my iPhone when on the treadmill. My objective is to not have a cord connected between me and my iPhone – I don't want to accidentally knock off my iPhone and damage it. After comparing options, I was excited to try the Jaybird JB200 Bluetooth headset. So I headed to my local Target and purchased a pair. Here are my findings:
Pros:
Wireless design
Smallest wireless headphones on the market
Does not completely block outside noise (so you can still hear traffic if you're running/biking)
Lifetime guarantee against failure from sweat intrusion
Includes everything you could need: USB charger dock, wall charger adapter for dock, iPod bluetooth dongle, carry pouch, USB cable, replacement ear tips
Fairly comfortable to wear for an over-the-ear design (but not as comfortable as the stock Apple earphones)
Can control iPod from the right earphone (previous/next track and play/pause)
Can change volume from the right earphone (press and hold the previous/next track buttons)
Can be used as bluetooth headset for iPhone or any bluetooth-capable cell phone (auto-switches from music to phone mode when a call is made/received)
Sound quality is adequate for spoken recordings (audio books) and video dialog and very casual music listening
Cons:
Poor sound quality – zero bass ; stock Apple headphones sound much better
Poor sound quality – background hiss can be heard when music volume is low, hiss increases with headphone volume
Poor sound quality – high frequency noise / compression artifacts
Expensive – $150
Experienced a bug where I turned power off, but LED on headset remained dimly illuminated even when I powered it off multiple times – completely drained battery
Overly large desktop charging dock into which earpieces do not firmly lock (can be knocked out much too easily)
Bright flashing blue LED on iPod bluetooth dongle – very distracting when watching video
Flashing blue light on the side of the earpiece – I don't like it when my ear blinks
Bluetooth dongle works only with these bluetooth headphones (an FM transmitter dongle would work with any radio or car stereo)
Buttons are small and somewhat difficult to press and hold (must hold the earpiece with your thumb and middle finder and firmly depress your index finger tip)
Conclusion: I returned them to Target. I decided that $150 was too much to pay for poor audio quality.  The Jaybird JB200 headphones are a pretty descent solution for listening to the spoken material while exercising or for casually listening to "background" music, but that's about it. They need larger drivers to deliver more bass and a low-pass filter to remove the high frequencies they can't accurately reproduce.
I've decided to purchase an Griffin iTrip FM Transmitter for $50 and use my existing $20 FM armband radio. This gives me flexibility to listen to either my iPhone or FM stations while at the gym.  I can also play my iPod through any car stereo if I so desire. The battery life of my armband radio is much longer and swapping AAA batteries every 6 months is easier than recharging earphones every 2 weeks. The sound quality of the FM radio is not audiophile-caliber, but the bass is better, the high frequencies roll off instead of producing noise, and the price is more appropriate to the audio quality.
The Jaybird JB200 is a very compact wireless headphone solution that addresses a specific need very well (small, wireless, casual listening, exercising.)  But for me, it was not compelling enough to overcome the poor audio quality and the high price.