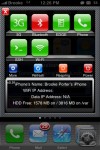 I've been an iPhone user for almost 2 years and have resisted hacking it because it provided almost all of the functionality I needed. In fact, that is still the case, but I finally was pushed over the edge when I needed an Internet connection for my computer for 5 minutes and wound up driving for 30 minutes to get one. So to enable tethering, which I will use about 5 minutes every 2 months, I jailbroke my iPhone. Along the way, I found a lot of other great functionality from third-party apps downloaded via Cydia, a third-party alternative to the iPhone Apps Store. These new apps are actually must more useful than the tethering will be. Here are the details.
An overview of the jailbreak & tethering process:
Essential Cydia Apps:
Here are the Cydia apps that I think are essential. I'd love to see Apple duplicate the functionality they provide. (In fact, Google Android phone already give most of this functionality.) Search for these apps by name within Cydia:
SBSettings: Quickly turn Bluetooth, WiFi, 3G, Airplane mode on or off. It's accessed by swiping your finger along the top of the screen (from the carrier logo on the left to the battery icon on the right.)
WinterBoard: This allows complete re-theming of the iPhone user interface. I happen to like the default look, but I wanted to display a weather icon in my status bar. This program is a prerequisite for any other apps that modify icons, so install it ASAP. (I found out the hard way and made my iPhone unbootable. I had to restore from backup using iTunes because I tried to use features that required Winterboard but it wasn't installed.)
Backgrounder:  Allows apps to run apps in the background so you can switch to other apps. This is especially useful for GPS applications. While the app you want to run in the background is running, hold the Home button for 2 seconds. A pop-up will confirm that it's now enabled to continually run in the background. When you click the Home button, you can open other apps, and the backgrounded app keeps running.
WeatherIcon: Displays the current temperature and icon in the top status bar and also on the application icon of your favorite weather app. I set it to update conditions every 30 minutes instead of every 1 minute to conserve battery. Note: By itself, the app gives the text for temperature. To get the icon, WinterBoard and the Klear Weather Icon Theme (or Katra-based Weather Icon Theme) are required – but be sure to install WinterBoard first!
Lock Calendar: It turns the lock screen into something useful: a list of all upcoming calendar entries.
GV Mobile: If you use Google Voice, this is currently the only way to get an application on your phone. I was available through the iTunes App Store but has been since removed.
Other apps: AutoSilent to automatically silence the ringer during meetings based on calendar entries and time of day. InSpell for red underlining misspelled words in all applications. MyWi for tethering / 3G connection sharing.  Kirkae for switching between running/backgrounded programs.
Do you think Apple will add these features in the next iPhone update? Are there any essential Cydia apps I've missed? Let me know in the comments.
Update 11-Dec-2009: TheAppleBlog just posted a list of 10 must-have jailbreak apps and there are some that I'd missed. Check out their list of 10 must-have jailbreak apps.
Update 22-Jan-2010: Unfortunately, my iPhone 3Gs locked-up and went into a reboot loop.  I had to put it into recovery mode and restore from backup to get it working again. I feel that it's related to jailbreaking, because the lockup happened as soon as I hit the button to turn on the screen. It froze before I could unlock it, but it displayed the "Searching…" for network status at the top left (which I frequently noticed after jailbreaking) and I was in an area with strong coverage. I'm convinced that the network dropouts, and also very poor EDGE network performance, were from jailbreaking. So I'm giving up on the modified carrier settings and on any apps that seem to "dig deep" into the iPhone operating system, like SBSettings, WinterBoard, and InSpell.