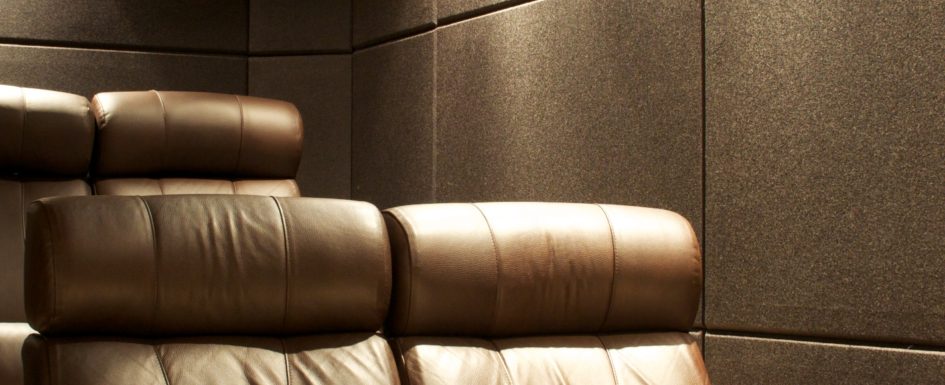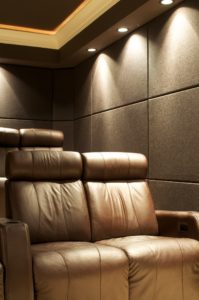 The single most important factor of a great sounding home theater is the acoustic properties of the room itself. Not the brand of speakers, not the receiver, not the bit rate of the movie soundtrack. Unfortunately, room acoustics is usually the area where most people give the least amount of attention. And I can't blame them, because it's a lot more fun to shop for electronics than it is to spend hours messing with acoustic room treatments. But if you want the best sound quality possible, room acoustic treatments are an absolute necessity.
It's almost impossible to get an absolutely perfect room configuration; you always have to make practical compromises. So the list below is intended to be a "menu" of options from which you can choose what best fits your needs. Read them over, figure out what you think you might incorporate into your room, and go from there.
Acoustic Treatment Rules of Thumb for Home Theater Rooms
Primary Purpose is to Prevent Echos: The primary purpose of acoustic room treatments is to prevent echoes within the listening room. It is not to reduce the amount of sound heard outside of the room. (There is a completely different set of requirements for a sound isolation setup, see the section below for details.)
Can't design for both 7.1-channel home theater and 2-channel stereo music. It's impossible to design a room to sound great for both 7.1 channel home theater configurations as well as for 2-channel stereo music configurations. You have to pick one or the other. This article focuses on Home Theater Room design tips.

Home theater  setups requires a lot of acoustic damping and relies on multiple speakers to create the sound effects throughout the room. If there is too much echo in the room, there is no localization of any of the audio channels and everything get muddied and mixed together, and the advantages of separating sound into 8 (or more) discrete channels is lost. If you want to listen to 2-channel music in a home theater room, you're much better off using a surround sound mode (such as Dolby Pro-Logic II Music) to recreate the echo effect of a concert hall, rather than having a home theater room with lots of echo that doesn't work well for movies.
2-channel stereo music setups requires a much more lively room with minimal acoustic damping to create a natural echo. So it's more like a performer on a front stage using the acoustics of the concert hall to amplify and fill the space with sound (not speakers in the rear of the room.) This works great for music, not so great for movies, where the sounds behind you are supposed to be quite different from the sounds in front of you.

A home theater room needs to have about 60-70% of the surfaces covered in  acoustic absorption material. To get the best acoustic performance, you'll want about 60-70% of your walls and ceiling covered. However, you don't want the room completely dead. You want some reflections scattered around the room. So some natural echo, but not so much that all of channels start to blend together and can't be easily localized to a certain region of the room (i.e. the front center and front right channel sound like they are coming from the same spot.)

Note that I didn't cover the ceiling at all in my room.  I covered about 80% of the walls.  A few of my panels don't have fiberglass in them. I thought panels on the ceiling would be ugly so I skipped it.

Must use acoustic fiberglass material: It's critical to use the right type of acoustic fiberglass for it to be effective. If you don't use the acoustic fiberglass panels, it won't attenuate the proper frequencies. Typically, these acoustic fiberglass panels are available in 2-feet x 4-feet (or 2-feet x 2 feet) sizes and are about 3/4-inch thick.

Owens Corning 703 Rigid Acoustic fiberglass panels (and equivalents) are the required density. They are much more compressed than fiberglass insulation, but not as dense as ceiling tiles. This density gives the correct amount of absorption of sound frequencies.
"Acoustic" ceiling tiles are too rigid and too dense. They are a complete waste of time and money and offer no benefit for a home theater room in terms of reducing echo.  Low, medium, and high frequencies bounce off of the surface. Ceiling tiles offer acoustic properties similar to drywall, so they do an OK job of keeping sound from going through to the next room, but do nothing to prevent echoes within the room.
Fiberglass wall insulation is not dense enough. It's designed to trap thermal air, not sound. It offers very little acoustic benefit because mid and lower frequencies pass right through it.

The front wall of the home theater room needs to be completely acoustically dead. The front 3 channels are the most important channels in a movie soundtrack and it is critical that they are properly isolated.  To accomplish this, I installed 2 layers of fiberglass panels covering the entire front of the room, as well as the front 3 feet of the side walls (beside the front speakers behind the speaker masks.)
Air gap between acoustic panel and wall: To get the best absolute performance from the fiberglass panels, they should have an air gap behind them (between the fiberglass and the wall.) 1/2-inch to 1-inch is the ideal gap. This is done to allow the sound to passes through the fiberglass and be dispersed, then continue on through the air gap, hits the wall and reflect/disperse, and then go back through the panel again for more absorption.

Note that I didn't do this; there is barely any air gap behind my acoustic panels. It was too much of a pain to mount the panels like that. It's much easier to just hang them on the wall.

Panel Placement at Primary Reflection Points: It's critical that the panels be placed at "primary reflection points" for the 3 front speakers to get the best front sound stage imaging. I primary reflection point is the point on the wall where sound from one speaker hits and bounces directly toward your ear.

Surround speakers aren't as big of a concern for reflection points because reflection/dispersion is more desirable with them. Surround speaker should be bi-polar or di-polar designs to increase dispersion and fill the rear of the room.
To find the primary reflection points: put your speakers in their desired location, sit in your primary seating position, have someone move a mirror along the wall.  When you see the speaker reflecting in the mirror, that's a primary reflection spot for that speaker.  You'll want to do this for each of the front 3 speakers. You will need to repeat this for both side walls.  Ideally, you should do this for the ceiling as well. You may want to repeat this exercise for a few other seating positions as well.

Additional random panels throughout the room: You will need to install additional panels throughout the room to get to 60%-70% coverage.  The location can largely be based on aesthetes.  Just make sure you hit the primary reflection points and space them somewhat evenly through the rest of the room.

Note: My panels turned out to completely cover the wall with no gaps in between each panel. I liked that look, so I went with it, but ideally there would be some space between each panel to create some additional small areas of reflected sound.

Bass Traps in the Corners: Corners of rooms are good because they can make certain bass frequencies much louder.  But corners are also very bad because they amplify only specific bass frequencies, creating a very uneven and non-flat bass response.  (It's better to have flat bass response and a more powerful subwoofer.) You needs lots of extra fiberglass in each corner to act as a bass trap.  Basically, put as much as  you can in the corners.  I put small panels at angles across the back corners and loose panels in the front corners behind the speaker masks.

Note that I really should have much bigger bass traps in the rear corners of my room.  But would also start to look weird/ugly, so I didn't pursue ultimate performance and instead favored visual appeal.
Physical Room Dimensions and Shape
Big rooms require big power: The larger the room, the more powerful your amplifier and speakers will need to be. So bigger isn't necessarily better.
Parallel walls are not good for acoustics as they create standing wave patterns. In an ideal room design, no 2 walls would be parallel. Unfortunately, if you followed this guideline absolutely, you'd have a very weird shaped room.
Corners are very bad for flat frequency response.  Corners create boomy, uneven bass response. Ideally, a room would have no corners. (Think of a circular room, or even spherical room with a dome ceiling.) However, this is not at all a practical design, so it's much more realistic to use bass traps in the corners, which is described below in the acoustic treatment section above.
Sound Isolation Room Design Considerations
There are a completely different set of design requirements for a room that isolates sound from the outside environment. (The primary purpose of acoustic room treatments described above is to prevent echoes within the listening room, not to reduce the amount of sound heard outside of the room.)
To minimize the amount of sound head outside of a room, there are three key parameters to consider: mass, rigidity, and vibration control of the floors/ceilings/walls.
The walls of the room need to be as heavy and rigid as possible. This can be done by using 2 layers of drywall. Ideally, the 2 layers would be of different thicknesses to isolate different frequencies. The first layer would be perhaps 3/4-inch thick and screwed (not nailed) directly to the studs. The second layer would be 1/2-inch or 5/8-inch thick and would be glued to the first layer (not screwed.)

There are special drywall mounts that have rubber dampers that go between the drywall and the stud. This reduces the amount of drywall vibration passed to the stud wall.

There should be two separate stud walls that do not touch each other. So an inside stud wall for a the home theater, a small air gap filled with insulation, and then outer stud wall for the room outside. With this design, when the inner home theater wall shakes/vibrates, the outer wall will not.

There are special rubber curtains that can be placed between the two walls that are more effective at absorbing sound than is fiberglass insulation. These curtains are also pretty expensive and may not be worth the cost, so it's up to you.

Ceilings transmit as much sound as walls. The ceiling should be physical isolated from the floor above, just like the walls as described above.
Concrete is your friend. Concrete does a fantastic job of isolating sounds from other rooms. If possible, make all walls / floor / ceiling out of concrete to keep sound from passing to other areas.
Air ducts transmit a lot of sound. You need to isolate the air ducts as well as a lot of sound can pass through them to other rooms. This can be accomplished by using flexible fiberglass covered ducts with lots of extra length and bends, for both the supply and return air.
Where can I get Owens Corning 703 Acoustic Fiberglass Panels to build my own?
From http://ethanwiner.com/acoustics.html
You can find the name of an Owens-Corning dealer near you by calling 800-GET-PINK (800-438-7465) or from the Locator page on the Owens-Corning web site. Other companies, such as Knauf, Armstrong, and Delta, make similar products, and they often cost less than fiberglass from Owens-Corning. You can contact them directly to find a distributor near you. In the interest of completeness, here are some other manufacturers that make similar products: Johns-Manville, CertainTeed, Roxul, Ottawa Fibre, and Fibrex.
The most common fabric used to cover home made acoustic panels is Guilford of Maine Acoustic Textiles in your choice of color.
What if I just want to buy some ready-make acoustic panels?
When I built my home theater, it was substantially cheaper to make your own acoustic panels. Since that time, prices have dropped substantially, and it's probably a better cost/time trade-off to buy ready-made panels. Although I don't have personal experience with the company, Acoustimac DMD panels appear to be a very good value.
Conclusion

For me, covering the front wall of my home theater with 2 layers of acoustic fiberglass panels made the single biggest improvement in sound quality of anything I've done, including using the room correction software within my receiver. After covering the front wall, the front 3 sound channels immediately "came into focus".  Covering the remaining wall gave an incremental improvement beyond that. As with all things, you have to consider the trade off between time, cost, aesthetics, and benefit. The guidelines listed here will give you some ideas to consider. Let me know your thoughts, questions, and ideas. Thanks for reading, good luck, and have fun building your home theater room!