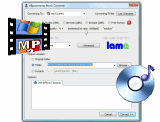 I've long championed the use of AccurateRip for bit-perfect audio extraction from CDs. Exact Audio Copy (EAC) has been my program of choice for years because it offered the best extraction quality and the largest feature set. Unfortunately, it's also pretty difficult to configure, which lead me to create my EAC configuration guide. The only other option was dBpoweramp Music Converter, but it was not as accurate as EAC, it didn't handle Compilation CDs (i.e. Various Artists CDs) well, and it didn't handle queued ripping very well. But now things have changed.
Spoon over at Illustrate has just released dBpoweramp Music Converter version 12. It is now even more accurate than EAC (here are the details), it now properly supports Compilation CDs, and (as always) it is pretty darn simple to configure. Plus, it offers features that EAC does not, including the ability to automatically download album cover art. Based on all of this dBpoweramp Music Converter version 12 Reference Edition is my new ripper of choice.
But wait a second — what's that Reference Edition? Ah, here's the rub for those fans of free software (EAC) and those who have already purchased the PowerPack version. To get the most secure ripping possible, you have to pay $28 (or $12 if you've already purchased the PowerPack.) Existing PowerPack owners get most of the new benefits — with the exception of "Ultra Secure & C2 Pointers" ripping, which is highly desirable for an audiophile.
There is one other small rub. After the first year, you'll have to pay $4.90 per year to continue to get access to the AMG (allmusic.com) service. Before you get too upset over this, consider that AMG charges all commercial software vendors per customer per year, so the costs are just being passed along from AMG. And I'm pretty sure you can revert back to freedb if you don't continue to use those features (though I think the simplified cover art download is well worth it.)
So, if you're a huge fan of free software, stick with EAC. But if you're looking for the ultimate in CD Audio Extraction as well conversion between just about any music format out there, give dMc a try.