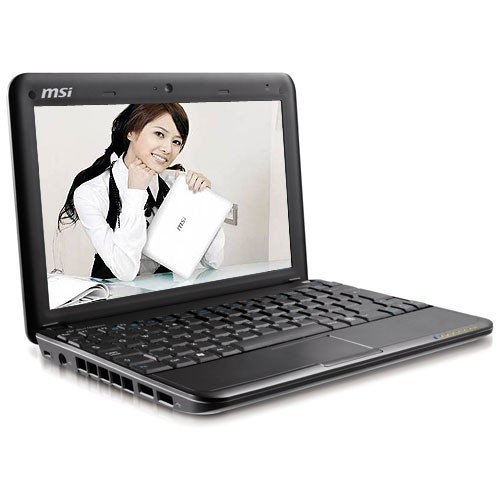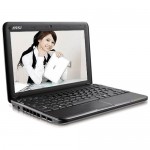 I purchased a MSI Wind netbook (i.e. small, cheap laptop) for my wife to use as her personal surfing-the-internet device. Overall, I'm very pleased with the performace and size, making it perfect for casual use.  Here are my pros and cons lists:
Pros:
Small Size: I knew this was going to be a tiny little PC, but I was still surprised by the diminutive size when I took it out of the box.  The Wind can be packed away in pretty much any bag and you don't even know it's there.
Nice Appearance: The glossy black plastic looks quite nice for a PC in this price category. It does show fingerprints, but it is also very easy to clean. It's also available in White.
Screen Size: If you're using 1 application at a time, the 10″ 1024 x 600 screen works surprisingly well.
Battery Life: With the 6-Cell battery, battery life is fantastic.  I didn't time it with a clock, but I'd estimate battery life to be at least 4 hours. And a 9-cell battery is available for about $60 on eBay.
Integrated Peripherals: Integrated webcam, bluetooth, SD card reader, Gigabit Ethernet, 160 GB Hard Drive
Upgradeable Memory: There's an slot for a second 1 GB memory module, bringing the total memory up to 2GB. The 1 GB module cost me less than $10 shipped.
Upgradeable Keyboard: Why would someone want to upgrade the keyboard on their laptop? Because they mistakenly purchased one with an International keyboard layout rather than a US layout. Luckily, replacement US layout keyboards can be purchased for less than $20 on eBay.
Macintosh OS X Compatibility: If you want to install OS x on non-Apple hardware, this is the netbook to do it on. Much of the hardware works with existing drivers and there are third-party drivers for the missing features. I was going to try this out, but then Windows 7 Beta 1 was released and I saw no need to do so.
Windows 7 Runs Great: I installed Windows 7 Beta 1 using a SD card in the in-built card slot. Installation took about 20 minutes. I did have to download a replacement touchpad driver from Synaptics to get scrolling working on the touchpad. Also, the internal microphone didn't work and I had to replace that driver as well.  Otherwise, it was a flawless experience.
Cons
International Keyboard Layout Sucks (make sure you buy US Kyeboard version): I unwittingly purchased a model with the International Keyboard layout. The Shift and Enter keys are smaller and moved over toward the outside edges of the keyboard, to make room for "international" keys. Luckily, a replacement US Keyboard install (and potential BIOS flash) resolve this problem.
US Keyboard Layout:
Smallish Touchpad Size: The touchpad is perfectly usable, but I would prefer that it be a bit wider.
Combined Mouse Buttons: The left and right mouse buttons are actually one big, single piece of plastic that rocks to the left or the right; the pivot point is in the middle. Two separate buttons that depress straight down would be easier to use.
Don't Care:
There is no optical drive: I store everything on my network and if I really need to get files onto the Wind, I'll copy the files from the disc using a different PC.
Will not play HD Video: The screen isn't high-enough resolution for HD video, so I don't care that it doesn't have the processing power to play it. Give me the SD version instead.
If you're looking for a netbook, the MSI Wind should be on your short list.