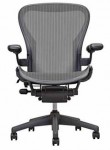 After a couple of years of searching for a great deal on HermanMiller Aeron chairs, my wife finally found one, and we've been enjoying them for the past 8 months. Unfortunately, her chair developed a crack in the back (most likely due to mis-assembly by the store.) I feared an expensive repair, but started searching for parts anyway.
I came across the website ChairMD.com and found out that it might be possible to have the back replaced under warranty. All HermanMiller chairs are covered by a 12-year warranty. So I filled-out the warranty request form on their site. They provided a diagram chair so that I could clearly identify the failed part and I also entered all of the chair configuration and serial number details from the sticker on the bottom of the chair.
4 weeks later, a replacement chair back arrived via FedEx. I'm elated. Instead of an expensive repair, I received a nearly effortless warranty replacement. Thank you Chair MD.
Update: ChairMD.com now redirects to http://www.officedesigns.com/file_include-exec/file/repair-replacement-parts