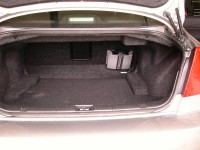 In preparation for an upcoming road trip, I purchased and installed at PhatNoise PhatBox in my 2004 Infiniti G35 Sedan. Initial impressions: holy crap, this thing is awesome! Why did I wait so long?!? Installation was extremely easy, just plug it into the satellite radio harness and it shows up as a CD changer, controlled directly from the factory head unit. To get it hooked-up and working in the car, total time was about 10 minutes (still need to screw it down though).
I know iPods are extremely popular; here's why I think the PhatNoise blows the iPod away.
controlled by the factory head unit so controls are very easy to reach
no FM modulators or chargers or cassette adapters required
Voice Prompts – no need to try to read a little screen on an iPod or try to read scrolling text on your head unit. Audible searching by artist, album, genre, and playlist.
Direct line-in input to the headunit; no low-quality FM or tape sound degradation
I know, with the right cable and the right head unit, iPods can have some of these features. Also, the iPod is more portable and the initial price is lower. But as with most things, you get what you pay for. If you want to go jogging, get an iPod. To listen to music in your car, I highly recommend the PhatBox. The voice prompts and sound quality make all the difference. It even supports my lossless audio format of choice (FLAC) and it was very easy to sync my music library via USB. The only possible improvement for this otherwise excellent device would be WiFi auto-sync every night for podcasts.
I participated in the PhatNoise user forum for well over a year. Unfortunately, it was shut down. Never fear, there is a non-affiliated replacement already well-established: phathack.com. I had a question and it got answered in a matter of minutes.
It's 2AM and I'm thinking about going back out to my car to play around with the PhatBox. It's that cool. It's TiVo-for-the-first-time cool.