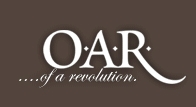 Seats: Row 1, Section B, Seats 107 and 108
Attend with: Nicole
Setlist: link (O.A.R. Setlist Archive)
I was first introduced to O.A.R. at the 2004-06-20 concert in Noblesville, IN where they opened for Dave Matthews Band. Although I thoroughly enjoyed DMB, it blended into the many others shows I'd attended; what made the impression was the opening act. I've since purchased several O.A.R. albums and finally tonight, saw them perform live again.
I'm very impressed with how the band has grown, matured, and blended over the past year-and-a-half. Lead singer Marc Roberge retains the same crackling and raspy voice, but has improved dramatically in the delivery. Although I'm sure some may miss the continuous rise-and-fall phrasing, I found the smoothly refined delivery much more listenable. This change is symbolic of the band as a whole. The Jamaican/rasta sound is no longer a required ingredient in every song and I find the increased range vastly more appealing. Although this can be heard by comparing their two live albums (2002's Any Time Now vs. 2004's 34th & 8th), it was more even apparent at this concert.
I skimmed over the letters section of the latest Relix magazine and noticed some noise about O.A.R. abandoning their true fans. Whatever. I don't see how any long-time or newly acquired fan could not enjoy this entire concert. I think it was just a case of overly-critical readers dwelling on out-of-context remarks.
My favorite parts of the show included Hey Girl in the extended form. O.A.R. has too strong of a reputation as a live act for this song not to have grown past the 4-minute version that first got them noticed on the national scene, and it has now apparently gone through multiple iterations. The new-to-me lyrics made me enjoy the song even more. If I had to pick a single favorite, it would be Black Rock, with the What I Am interpolation (from Eddie Brickell and New Bohemians) and the prominent keyboard feature at the end. I also enjoyed City on Down, perhaps my favorite O.A.R. song, as well as Love and Memories, which is a new favorite.
There were some uniquely memorable events at the concert. The first was the ninja in black with white ski goggles playing the tambourine during Love and Memories. He quickly disappeared and was never seen again. What was up with that? Also, Marc Roberge had constant problems with his acoustic guitar throughout the first half of the show before finally getting a working replacement. A guy across the aisle and one row behind us got the gift of his life when Roberge asked if there were any guitar players in the audience and then proceeded to give his "bad karma" guitar to the guy. The look of astonishment on his face indicated how deserving we was of the instrument.
In all, this was a concert I was looking forward to atteding but didn't greatly anticipate. However, the muiscal growth of the band has changed that. O.A.R. has made it into my inner circle along with a very few other bands. I'm now frantically trying to figure out how to get tickets to the 2006-04-04 concert at Butler University in Indianapolis.