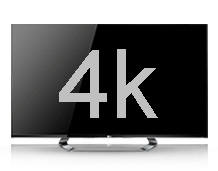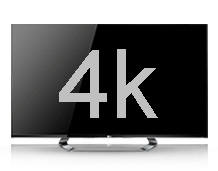 4k resolution televisions are now widely available and potential buyers are wondering if the extra resolution is worth it. In some cases it is, but in most, it's not.  The details below can help you decide.
4K (and 8K) Resolution Defined
The older 1080p HDTV standard has a resolution of 1920×1080 (2.1 million) pixels. The UHD resolutions are multiples of this base 1080p resolution.
4k resolution is named for the approximately 4,000 (4k) pixels that make up the horizontal resolution across the image. More specifically, the resolution is 3840×2160, which gives 8.3 million total pixels – 4 times that of 1080p. (4k is sometimes called 2160p, and is also known as QFHD – Quad Full High Definition.)
8k resolution has about 8,000 horizontal pixels. The resolution is 7680×4320 (33.2 million) pixels, which is 16 times that of 1080p. 8k is also called 4360p.
The ITU and the Consumer Electronics Association have officially dubbed both 4k and 8k resolutions as "Ultra High-Definition", but to complicate things, these resolutions are also commonly called Ultra HD, UHD, UHDTV, and even Super Hi-Vision.
HDMI 2.0 (or later) is required to fully support the 4k specification. (The older HDMI 1.4 spec has partial 4k support, but is limited to a frame rate of 30 frames per second. But most components with HDMI 1.4 don't contain the electronics to support 4k resolution, even though the HDMI interface does.)
How to Tell if You Will Notice the Additional Resolution
To be able to detect the additional resolution of 4k (or 8k), the screen must be quite large and you must sit fairly close. So how do you know if your particular setup would benefit?  Here's your answer…
Based on the resolving ability of the human eye, it is possible to estimate when 4k resolution will become apparent. A person with 20/20 vision can resolve 60 pixels per degree, which corresponds to recognizing the letter "E" on the 20/20 line of a Snellen eye chart from 20 feet away. Using the Home Theater Calculator spreadsheet as a base, I created a chart showing, for any given screen size, how close you need to sit to be able to detect some or all of the benefits of a higher resolution screen. (Click the picture below for a larger version.)
(Note for those of you not used to reading charts, just jump to the calculator below)
What the chart shows is that, for a 84-inch screen, 4k resolution isn't fully apparent until you are at least 5.5 feet or closer to the screen. For a "tiny" 55-inch screen, you'll need to be 3.5 feet or closer. Needless to say, most consumers aren't going to sit close enough to see any of extra resolution 4k offers, much less 8k.
It's important to note that research by Bernard Lechner (former VP of RCA Laboratories) found the average viewing distance of American TV viewers is 9 feet. This is substantially farther than the 5.5 foot distance required to fully resolve normal-sized 4k screens. I don't imagine people rearranging their living rooms to take advantage of the otherwise unnoticeable UHD resolution benefits.
Verification of Calculations by Sony and THX
Sony lists identical required viewing distances in the Frequently Asked Questions section of their product description.  Checkout the Amazon.com product description FAQ for the Sony 65X900A 4k Ultra HDTV. It shows the same distances I have calculated (i.e. 3.6 feet for a 55″ screen and 4.2 feet for a 65″ screen.) If you don't believe my numbers, confirmation from Sony should help convince you.
Quote from Sony FAQ:

How close to the TV must I sit to appreciate 4K?

The short answer is that between 5 and 6 ft. is the ideal viewing distance for a 55" or 65" Sony 4K Ultra HD TV. However, on a 55", you can now sit as close as 3.6 ft and enjoy a visibly smoother and more detailed picture (e.g you won't see the individual pixels). On a 65" TV, you can sit as close as 4.2 ft. to appreciate 4K.
THX also confirms similar viewing distances:
On a 50-inch 1080p HD display, most consumers can begin to distinguish individual pixels only when standing within six feet of the screen. Therefore if your viewing distance is 10 feet or greater, an Ultra HD 50-inch display will likely have little perceived benefit in terms of image clarity and sharpness [source]
Availability of 4k and 8k Content
If you are among the rare few who has a giant screen and sits close enough to it to benefit from 4k resolution, you still need UHD content. Here's a summary of your options:
Highest Quality Options (less compression, highest bitrate):
Ultra-HD Blu-ray players and discs are available starting in 2016. This will be the highest-quality offering, with bitrates of up to 128 Mbps, giving the highest quality audio and video possible. Though discs don't offer the convenience of streaming, it will be the best source of 4k video in 2016 and beyond. The quality of Ultra-HD Blu-ray will likely remain ahead of online stream options for years to come.
Video download boxes such as the Sony FMP-X1 4K Ultra HD Media Player and the FMP-X10 4k Ultra HD Media Player support 4k. These devices download a limited set of movies from Sony Pictures in 4k resolution to an internal hard drive. Due to the limited amount of content, high price, and low adoption rate, this would seem to have only marginal impact on availability of UHD content.
Kaleidescape Strato Players download full bitrate 4k movies from the Kalidescape online movie store. These are identical in quality to Ultra-HD Blu-ray. The company has had some recent financial issues, but appears to be up an running again. The hardware is expensive, but the quality is excellent.
Moderate quality options (more compression, lower bitrate):
The built-in Netflix and/or Amazon Prime Video apps on most 4k smart TVs will play 4k for the few titles they stream in that format. The bit rate is only about 16 Mbps, compared to 48 Mbps for 1080p Blu-ray. What this means is that picture and sound quality are sacrificed in other ways (color depth, contrast ratio, frame rate) to achieve the 4k resolution, so don't expect perfection.
The Microsoft Xbox One and Sony Playstation 4 (and later versions) have hardware capable of 4k resolutions. Steaming video apps such as Netflix will be able to play 4K on these platforms. However, most games can't be rendered in full  4k.
The Sony PlayStation 3 can display static 4k pictures (not moving video) using the HDMI 1.4 connection at 24 or 30 Hz refresh rate. This may be worthwhile for photographers, but probably not for anyone else.
Cable and Satellite: Cable and satellite companies are offering some 4k content on their new boxes. The quality is better than their 1080p channels, but it's still highly compressed as compared even Blu-ray, and substantially lower than Ultra HD Blu-ray, and is generally comparable in quality to streaming services.
Amazon 4k Fire TV: A good option for Amazon Prime subscribers who watch a lot of Amazon Prime Video
Roku and nVidia Shield both offer versions with 4k outputs and apps that support 4k streaming.
Dubious quality options (upscaling of lower resolution content)
Most 4k UHD TV advertise the ability to "upscale content to 4k". The highest-end, stand-alone video processors offer only moderate improvements in quality. The video processors inside HDTVs are generally low-end, offering very little improvement in quality, and can make some up-converted content look worse. Don't count on video processor upscaling to deliver any significant picture quality improvement.
Conclusion
The benefits of 4k and 8k are marginal. You have to sit unrealistically close to see the full detail and you need 4k source material, which is not readily available. If you use a 4k display as a computer monitor to view high resolution source material, you could benefit. Other than that, save your cash and purchase 1080p instead.
My recommendation for achieving the best picture quality for the lowest price is to focus on contrast ratio and look for these features:
Look for the HDR (High Dynamic Range) feature: HDR adds a much more perceivable picture quality improvement than does higher resolution. HDR increases the contrast ratio between the brightest and darkest regions of the screen, which is the most beneficial thing you can do for image quality. Keep in mind that HDR source material is required for this to work, but I expect this to be much more broadly available because it can be "backwards applied" to existing 1080p content.
Look for OLED instead of LED/LCD: the near infinite contrast ratio of OLED will offer a superior quality image. A 1080p OLED TV will have an overall better picture than a 4k LED/LCD. OLED is more expensive, but the prices are starting to come down.
ISF states that the most important aspects of picture quality are (in order): 1) contrast ratio, 2) color saturation, 3) color accuracy, 4) resolution. Resolution is 4th on the list, so look at other factors first. Also, be sure to calibrate your display! I recommend the following calibration tools.
Recommended Calibration Tools
"Just tell me what resolution HD TV to get"
If you don't like reading charts and are looking for a quick answer, enter your screen size below to see how close you'll need to sit to fully appreciate various screen resolutions.
Note about "or closer" viewing distances calculated above: if you sit closer than the distances shown above, you will be able to see some (but not all) of the detail offered by the next higher resolution.