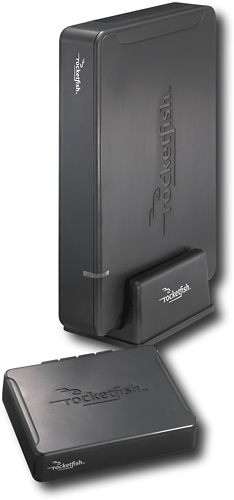 I'm passing along my good fortune. The good folks at Rocketfish sent me review sample and I'm giving it away to one lucky commenter. Don't know what a Rocketfish Wireless Surround System is? Well, it's a 2-part system that eliminates the need to run wires from your A/V receiver to your rear surround speakers. The system consists of the following:
the Rocketfish transmitter – connects to the rear channel speaker outputs of your audio/video receiver
the Rocketfish receiver / amplifier – powers your existing rear surround sound speakers
For any contest to be interesting, there have to be some rules. Here's the deal:
You must leave a comment on this post saying how and why you need a Rocketfish wireless surround system and how you plan to use it.
Optional: you can post a link to a picture of your Audio/Video setup (you can upload the picture to Filkr or TinyPic and include the link in your comment)
The contest will remain open for about 2 weeks or so
The winner will be chosen at random from the best comments (i.e. I'd rather it go to someone who's going to use it rather than someone who is going to Ebay it)
Rules are subject to change (I've probably forgotten / overlooked something and I might as well be upfront about something possibly changing)
That's it! Comment away. . .
Rocketfish RF-WHTIB Wireless Speaker Transmitter/Receiver Kit Specifications:

Transmitter: 6.6 K-ohm impedance at 10V RMS; 16-bit, 48 kHz, 1.465 Mbps signal; 15-20 ms signal delay; 100 foot range; 2.4 GHz transmission frequency
Receiver: 87 dB Signal-to-Noise ratio; 0.4% total harmonic distortion at 1 KHz, 25 watts x 2 @ 4 ohms; supports 4 ohm to 16 ohm speakers
MSRP: $99
Rocketfish Customer Support: 1-800-620-2790