In a recent episode of the Entertainment 2.0 podcast, the question was asked "what is the best smart-home tech for a vacation rental property?" Since I've recently stayed in several VRBO/Airbnb rental properties, and since I'm in the middle of an extensive smart home build at home, I decided to put this list together. While there is some overlap between a home you live in and a home you rent to strangers, there is quite a bit that will be different. Here's my list of the best smart home products for the guests in a Vacation Rental Property. Some of these items are on the more expensive side, but I think the higher reliability justifies the higher investment – you need the technology to work without you being in there to fix it.
TV and Entertainment:
Guests like to watch shows and movies when on vacation. It can be one of the highlights for certain types of vacations. And they want to watch THEIR shows, not somebody else's. And you definitely don't want guests messing up the favorites and watch history in your accounts. Roku is the best solution because Roku has Guest Mode that allows owners to switch to a mode where guests sign in to apps – and can schedule an automatic sign-out date. Roku supports every major streaming service. The newer, higher-ed Roku devices support both Google Chromecast and Apple Airplay. But you can't solve everything with Roku, so you'll probably need a combination of multiple solutions: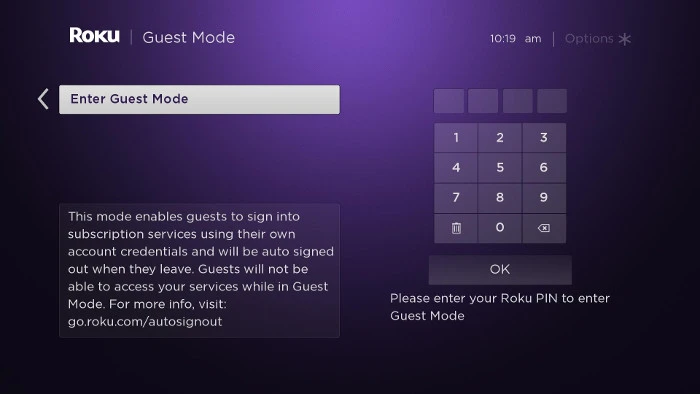 Recommended TV (if you need a new one) – TCL with Roku: The best TV for a rental is big and inexpensive. If there's room, go for at least a 65-inch TV. (Note: TCL TVs currently do not support Apple Airplay 2. Maybe they will at some point, but not as of 2021. If you want Airplay 2 capability, you'll need to go with an external Roku Ultra…)
Streaming Device for Existing TV: Roku Ultra LT or Roku Ultra. As mentioned above, Roku has Guest Mode that allows owners to switch to a mode where guests sign in apps – and schedule an automatic sign-out date. Also, Roku supports every major streaming service. The reason to get the Roku Ultra or Ultra LT? Wired Ethernet. Don't leave it to the guests to connect / reconnect to the Wi-Fi. Put it on wired Ethernet and you won't have to worry about connectivity. (If you're a Channels DVR user, there is no Channels DVR app for Roku due to Roku hardware being too slow…but now that Rokus are much faster, perhaps Channels will re-start development on their Roku app.)

Program the Roku so that the remote fully controls the TV power, HDMI input, and volume via HDMI-CEC

Labeled HDMI Cables for BYOD (Bring Your Own Device): Aside from Google Chromecast/Apple Airplay, the easiest solution for guest is for them to bring their own stream device. You should make plugging in the device as easy as possible by having two 6-foot long HDMI cables labeled with the corresponding HDMI Input name.
Essential Fallback Cable/Satellite Service – Dish Network Hopper DVR: Some people, especially those who are older, still love traditional cable/satellite providers. The grid guide is essential. I think the best option is to use satellite, because I've experienced several cable Internet outages at rentals in the past. At least the satellite TV will be there if the internet connection goes out.

Program the remote to fully control the TV, including input selection, power, and volume

Universal Remote: Don't mess with a universal remote. Make sure the Roku is setup for HDMI-CEC (control of the TV over HDMI) and make sure your TV works with HDMI-CEC (~2017 or newer TVs.) Also, make sure the fallback cable/satellite remote is programmed to control the TV. Then hide the TV remote. Guests should only have to use the Roku remote to turn on the TV to Roku or the cable/sat remote to turn on to that input. If the TV doesn't support this capability, you have the wrong TV.

For switching to the BYOD external HDMI cable inputs – leave printed instruction on how to press the hard buttons on the TV inputs manually.
Guest Access Code Management Cloud
The best door access code management system I've encountered is Lynx. Lynx integrates without over 20 different booking partners, including VRBO and Airbnb. It automatically generates unique door access codes for each visitor for their scheduled dates. It works with Yale, Schlage, August, Kwikset and several other brands of locks. It also integrates with both Nest and Ecobee thermostats.
Wi-Fi and Networking:
Having a strong internet connection is important for a vacation property, especially if it's in a location that doesn't have the best cellular coverage. The coverage needs to be strong throughout the house, not just in one room. Kids will be streaming shows to their phones at one end of the house, parents will be checking in on work from their laptops on the other end. If there's a large outside entertainment/pool area, there should be coverage there as well.
Pick for Best Wi-Fi System: Eero 6 Router 3-pack. The Eero 6 product line gives plenty of speed and coverage for pretty much all situations (no need to pay for the much more expensive Eero 6 Pro.) I recommend getting the three-pack of Eero 6 Routers instead of 1 router and 2 extenders because the routers have wired network ports. Why is this important? Because you really should connect the 3 routers together using wired Ethernet cable instead of relying on wireless connections between the devices. If you need help running the cables, call the local security system installer or CEDIA smart home pro and get them to help. (Otherwise, get the Eero 6 Router + 2 extender 3-pack.) Be sure to share to create a Guest Network instead sharing your main network with guests.


Note: I've had to go into the admin interface on numerous routers at rental properties because they were not setup properly. They are hard to set up. I'm looking at you TP-Link. Eero is much easier to setup correctly and it's also pretty resistant to guests getting Admin access and messing something up.

Best Way to Share Wi-Fi Network Password – TenOneDesign WiFi Porter Hospitality. All a guest has to do is tap their phone on the Wi-Fi symbol, and it will share the network name and password with the device. This works with all Apple iOS and Android devices made within the past 4 years.

Network Monitoring for Outages/Problems – Fingbox: The Fingbox is a great way to remotely monitor for internet connectivity problems. It doesn't require a monthly fee for any essential features. It's backed by Domotz, a company that does corporate network monitoring. I've been using Fing for years and highly recommend it.
Smart Lighting
You'll want to make sure electricity is not being wasted when there aren't guests renting the house. You'll also want to run to some automation scenes to make it look like the property is occupied when it is vacant for extended periods. Smart light switch are the best solution.
Best Low-Cost Smart Light Switch – Belkin WeMo Smart Wall Switch 2nd Gen: The most cost-effective way to do this is the WeMo Wall Switch. No hub required. Yes, you'll need to replace the existing wall switch. No, it's not that hard to replace a switch. However, Belkin is only an option if your house has a neutral wire (i.e. house was built in 1980s or later.) Note: Belkin WeMo switches do not integrate with Lynx. But they do work with Apple HomeKit, which operates locally without a cloud connection.
Best Overall Smart Switch (and the only option for Older Houses with no neutral wire) – Lutron Caseta: Lutron makes the best smart wall switches, and they integrate with everything. The only downside is that they're expensive and require a Lutron hub. They are also pretty much the only option if your house wiring doesn't include a neutral wire. Lutron does integrate with Lynx and is also Apple HomeKit compatible.
Light Switch Labels: Most homeowners sometimes get confused about which switch controls which light. Help your guests and label the switches in every room.
SmartHome Hub for Local Control and Privacy
Best Easy-to-Setup Hub for Local Control – Apple TV with HomeKit (or maybe Apple HomePod Mini with HomeKit): Even if you're an Android user, the easiest-to-setup smart home hub with local control of devices is the Apple TV and the HomeKit ecosystem. It doesn't rely on a cloud connection to control locks and security, which means it will work even if the internet isn't working. You'll need to put it in a locked closet somewhere – it's not for guests to use with the TV. HomeKit offers much better automation/routines than either the Google or Amazon ecosystems.
Thermostats and Pool/Hot Tub Temperature Control
Best Smart Thermostat for Guests – Nest Learning Thermostat: The thermostat needs to be easy for guests to use. The Nest Smart Learning Thermostat is the easiest to use. I have Ecobee thermostats in my home because they integrate better with third-party systems and have a few more technical features. But that doesn't matter to guests. The complicated ecobee touch screen isn't nearly as easy to use at the Nest dial. Go with Nest, and set the temperatures back when the house is unoccupied. (Both Next and Ecobee work with Lynx.)
Best Simple Pool / Hot Tub Remote Control – iAquaLink: This device is more focused on the property owner than the renter. The biggest reason you'd want this is to turn off the pool heater when not in use – heating a pool is expensive. The reason to choose iAquaLink is that it's a simple system that can't be easily accessed by the renter. Everything goes through a cloud connection, so it's not directly accessible on the home network. The renter can still use the physical panel at the pool/spa. iAquaLink seems to be self-updated, so no manual firmware updates.
Best Integrated Pool or Hot Tub Remote Control – Pentair Intellicenter: Intellicenter is the best system for integration with home automations systems, and for services such as Lynx property management. It's a bit more or a complicated and expensive setup, but it offers the most opportunity for automation and synchronization with guest bookings through Lynx.
Locks, Security Systems, and Exterior Cameras
Smart Door Locks: I personally use Schlage locks and they would be my first recommendation. Yale and August (both have the same parent company) are also good options. August requires a separate keypad to be mounted outside beside the door. All 3 of those work with Lynx and all 3 are Apple HomeKit compatible.
Alarm System – Abode: You don't want guests to have to disarm a security system. It's stressful. But if the property is going to be unoccupied for long periods, you should have a security system that you can control from your phone. A lot of people love SimpliSafe, and you can't be the low monthly cost of the Ring Security System. But if it were me, I'd go with Adobe instead because it has some more advanced programming features, and it's compatible with Apple HomeKit. I would create a HomeKit automation that auto-disarms the alarm system when the door lock keycode is entered (you need to have an AppleTV locked away in a closet to run this automation in the rental house.)
Exterior Security Cameras – Ring Floodlight Cam Wired Pro (w/radar), Ring Video Doorbell 4 (w/radar), Reolink POE: Guests do not want to be monitored by security cameras. It's kinda creepy. But almost every house I've rented has had an exterior camera I've never complained about it. As the owner, you want to make sure there isn't a huge house party going on. If you have a pool, you'll definitely want to monitor that. So you should have cameras for the driveway at minimum, and a pool if you have one. You should not have cameras that can be easily unplugged by guests. And you can't use battery-powered cameras that have to be frequently recharged. The easiest options are the Ring Video Doorbell 4 and Ring Floodlight Camera Wired Pro – I like them because they have radar, which greatly limits false alarms. But at my own house, I pulled Ethernet cables to exterior locations in installed Reolink RLC-820A PEO wired Ethernet cameras. If you can run Ethernet cable, this is your best option because it doesn't rely on the cloud for storage (it writes to an internal micro SD card. (You can also get a Reolink Cameras NVR package for even more features.)