How and why a "plasma purist" wound-up falling in love with a Flat Panel LCD.

Overview:
The Super Bowl is a little over a week away and question many people are asking themselves is "which HDTV should I buy for the game?" The answer is not simple and represents a significant monetary investment. Sure, a bunch of future displays were just announced at CES, but there is always something better on the horizon, those displays are months away, and the Super Bowl is upon us – it's time to pull the trigger! Due to my price and space considerations, I focused on HDTV displays ranging from 42″-50″ from higher-end manufacturers that are available at most local big box retailers. This write-up summarizes the hours of research and testing that went into making my final display choice for Super Bowl 2007 and many thereafter.
Flat Panel or Rear Projection or Front Projection?
This is a decision you have to make based on how much space you want to devote to the display, how much time you want to devote to installation, and how much budget you have. This article is devoted to Flat Panels; I chose a flat panel because I wanted the smallest footprint possible (actually, zero footprint since it's installed on the wall.) Rear projection definitely offers a larger screen for a lower price. Front projection offers a giant screen for an even lower price if you have total light control and are willing to perform a more intensive install. But Flat Panels are pretty much the sexiest displays out there, and that's probably why I chose that technology.
LCD or Plasma?
I must admit, I'm a plasma purist. I've always admired their extremely black blacks and unequaled ANSI contrast ratio. If you're going to be watching your TV exclusively in a dark room, plasma is definitely the way to go. But I already have a dedicated home theater with a front projection system. When I want to watch TV outside of my home theater isolation chamber, I want to do it with the lights on and in the daylight. These lighting conditions are the downfall of plasma. All plasmas have a glass front panel on them. When they produce those amazing black levels for which they are famous, the front panel becomes extremely mirror-like. So you can easily see reflections from your windows and any lamp that is beside or behind you (when you're in front of the TV.) LCDs, on the other hand, have a matte finish on the front. This results in great diffusion and almost total elimination of glare. LCDs are also brighter than plasmas. This combination of features makes LCD the much better choice if you aren't going to darken your room every time you watch.

I've chosen Plasma, what display do you recommend?
The newest Samsung plasmas (such as the Samsung HP-S5073 and HP-S4253) have an anti-glare coating on them, which reduced the amount of reflections and to a small degree eliminates the glare problem. When compared side-by-side with the two other top plasmas (the Pioneer PDP-5070HD and the Panasonic TH50PX600), the glare was reduced in scenes with medium brightness. Extremely bright and colorful scenes look great on all of the plasmas and dark scenes were full of reflections on all of the plasmas, so the Samsung coating is only a moderate success. Unfortunately, these sets are notorious for emitting an annoying buzz from their main controller board (see this and this AVSforum thread.) Assuming that you're looking for a 50″ plasma, this really leaves only two choices (based on a wide amount of reading and testing): the Panasonic TH50PX600 and the Pioneer PDP-5070HD. When properly calibrated, both give an absolutely stunning picture, but a majority of the people over at AVSforum gives a slight edge to the Pioneer. Seeing that the price of these two displays is extremely close (especially when searching online), I strongly recommend the Pioneer PDP-5070HD.
Recommendation for 50″ Plasma: Pioneer PDP-5070HD

Recommendation for 42″ Plasma: Panasonic TH42PX600
I've chosen LCD, what display do you recommend?
I initially focused on the "S brands": Sony, Samsung, and Sharp (there are many more budget-minded brands out there but I focused on these higher-end alternatives). Anyone can debate picture quality for any set, but an annoying flaw is something that almost everyone can agree on — and something I wanted to avoid at all costs.
The Sharp (Aquos 42D62U/46D62U/52D62U) is the low-cost leader of this bunch but a large number of users have noticed horizontal and vertical banding (uneven brightness resulting in horizontal or vertical bars – see this AVSforum thread.) Because of this and a marginally lower opinion of the overall quality versus the others, I dropped them off the list.
I then considered the Samsung (LN-S4696D, LN-S4695D, LN-S4096D) and Sony XBR and V2500 (KDL-46XBR3, KDL-40XBR3, KDL-46XBR2, KDL-40XBR2, KDL-46V2500, KDL-40V2500) models but found a huge amount of complaining about cloudy/uneven backlighting. Samsung makes the panels for both the Sony and Samsung models and this problem affects a very high percentage of these displays (well over 50% of owners see the problem). Check out this, this, and this AVSforum thread and the picture below.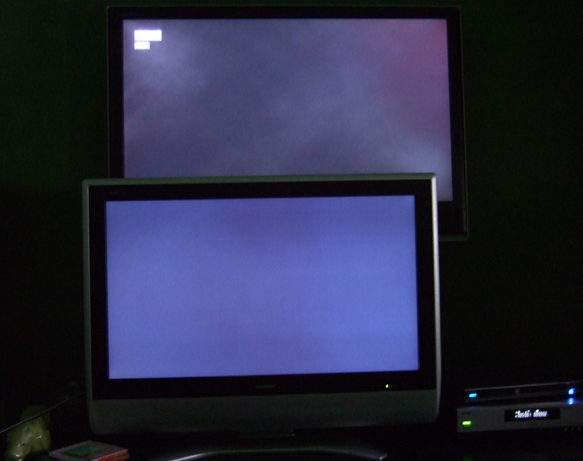 At this point, I was close to giving up — but then I found and started researching Mitsubishi (LT-46131, LT-46231) models. No banding. No cloudy uneven backlighting. This post by 'bugsbny' sums it up best:
"Well, my hellish two weeks are over! After getting a 46″ XBR2 (with clouds…see my post in the Sony cloud thread) and a 46″ Aquos (with banding) I was about to give up on LCD. . . Using the best possible comparison tool…my living room with the same inputs, I definitely got the best picture with the Mitsubishi."
Plus, compared to the others, the Mitsubishi has more inputs, a cable card slot, the best Picture-in-Picture and Picture-out-of-Picture features (Samsung has limited PiP), a firewire output (for D-VHS recording of HD), and it is the only set to properly deintlace signals to the native progressive screen refresh rate (test results). Finally, it has a built-in QAM tuner, which means that it can tune-in unencrypted local HD stations off of digital cable without having to rent/add a cable card. In short, this became the clear choice for my LCD purchase. Using these settings during an in-store demo made the decision final.
Recommendation for 46″ LCD: Mitsubishi LT-46131 (or LT-46231)

Recommendation for 42″ or 50″ LCD: buy the 46″ Mitsubishi instead
If you're looking to buy a LCD flat-panel TV for the Super Bowl, I highly recommend the Mitsubishi LT-46131 or LT-46231 (both have the same panel, the 231 has just a few more features and a completely black case.) Both of these are available in-store at Fry's Electronics and online at Frys.com for the lowest price I've found. Circuit City also carries them.
This is the best advice I have to offer on digital flat panels for SuperBowl 2007 — but be sure to go the stores and look at these displays yourself with your own eyes — and let me know if you come to a different conclusion.
Go Colts!