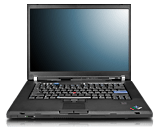 I'm gleefully excited to have just completed my order for a brand new Lenovo Thinkpad T61 laptop. I've been a huge fan since my first Thinkpad 600 in 1999, followed by a T20 in 2001, and a T30 in 2003. They are extremely solid, well supported premium notebooks and are well worth the extra investment versus lesser hardware. Better yet, they were provided by work, so I didn't have to buy one. Unfortunately, my employer switched to Dell and I've been stuck with the mandated Dell D620 for the past year. I've gotten used to it, but it's no Thinkpad.
I re-tasked my current desktop as a dedicated server (more on that in a future post) and needed a replacement. My initial reaction was to buy a bunch of parts from Newegg and build a desktop myself — this is what I've done every couple of years for the past decade or so. But after I spec'd and ordered the parts, I experienced a paradigm shift: "Why are you buying a desktop when you really want a laptop." Not 30 minutes later, I receive an alert from DealNews.com that there was a 10% discount on ThinkPads. I canceled my order for a desktop and embarked on the first purchase of a laptop.
The only other laptop I considered was an Apple Macbook Pro. I just purchased one for my father-in-law and it is a great piece of hardware. Truthfully, I went Mac to recduce the number of support questions I receive (I can always claim ignorance with Mac OS.) But after using Mac OS for a while, I was slightly irritated by the interface and very irritated by a lack of free / open-source programs. I'm very specific about the software I use, and some of it does not conform to the Mac way of thinking. Plus, I'd have to re-purchase some of the software I own. The final nail in the Mac Book Pro coffin was that could get pretty much identical hardware for a half the price. Case closed; I'm a Windows / Linux control freak and will remain so for a few more years.
Here are some details on the deal I got:
10% coupon from DealNews.com
7% cash back from the American Express TailorMade program
3.5% cash back from FatCash.com
The Upgrades that I Picked:
Intel® Core™ 2 Duo T7300 (2.0GHz 800MHz 4MB L2 cache) — passed on the 1.8GHz 2MB L2 Cache CPU
14.1 WXGA+ TFT, w/ Camera — an upgrade from the lower-res WXGA / no Camera version
NVIDIA Quadro NVS 140M (128MB) — I need this to drive my 30″ Dell 3007WFP LCD monitor
UltraNav (TrackPoint and TouchPad) with Fingerprint Reader — upgraded to the fingerprint reader for quicker log-ons
100GB Hard Disk Drive, 7200rpm — a priced-reduced upgrade from a 60GB, 5400RPM drive
7 cell Li-Ion Battery — the standard 3-cell battery is a joke
ThinkPad Advanced Mini Dock — unfortunately, this is the only way to get Dual Link DVI-D output; shame on Lenovo for no on-board DVI port
The Downgrades that I Picked:
CD-RW/DVD-ROM Combo 24X/24X/24X/8X Max, Ultrabay Slim — I don't burn DVDs, so no need to waste money on a DVD burner
ThinkPad 11a/b/g Wi-Fi wireless LAN Mini-PCIe — I can get an Intel Wireless WiFi Link 4965AGN Laptop card off of Ebay for less than from Lenovo and don't need it unless upgrade to 802.11N wifi at home
512 MB PC2-5300 SDRAM DDR2 667MHz SODIMM Memory (1 DIMM) — I can order 4GB of memory from Newegg for the price Lenovo was going to charge me for 2GB; I'm not afraid to take thinks apart
No 1GB Intel Turbo Memory Card — I'd need to get more memory to qualify for this, plus it's a standard Intel part that I can get a card cheaper off of Ebay than I could directly from Lenovo; I'm not afraid to take things apart
Genuine Windows Vista Home Basic — the cheapest Operating System option; I already own a Windows OS — and shame on Lenovo for not offering an even cheaper Ubuntu Linux option!
Unfortunately, because I picked the WXGA+ screen with camera, it may be several weeks before I receive my new object of tech lust. I'll be sure to post when I've tried it out.