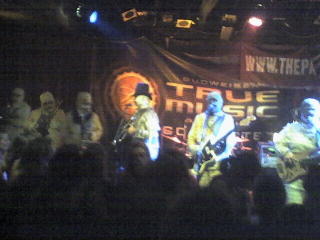 I attended my second Here Come the Mummies show at The Patio in Broadripple. These guys are so much fun. In the past year, the songs have grown into "live performances" rather than "songs from an album".
My favorite song of the night was definitely Ra Ra Ra; the percussion break and solos were much better than any other version I'd heard. My other favorites from their first album (Terrifying Funk From Beyond The Grave) were Believe (in Things You Cannot See), which started the show with mummy march cadence into the building and on to the stage, and Strange.
Songs from their second album (Everlasting Party) that are quickly growing on me are Dirty Minds and, despite myself, Attack of the Wiener Man. If you want to see a bunch of talented musicians in mummy outfits laying down some fun and nasty funk, the Mummies are the only game in town. If you listen closely enough to the lyrics, you may even catch something that is not suggestive. . .