Home theater has been a major hobby of mine since the early 1990s when I hooked my first stereo VCR up to a 2-channel receiver. In college, my roommate start his co-op job and purchased at 20″ TV — my experience was as complete, or so I thought. A couple of years later, Dolby Pro-Logic receivers became available, and I upgraded to 5.1 sound. The addition of a DVD player shortly after they were introduced made a significant impact on sound and picture quality. My next phase was acquiring one of the first 720p 16:9 projectors to be released, which replicated the big theater experience for the first time. The next major revolution was add HD capabilities with a TiVo HD Satellite receiver. Next came the addition of a Blu-ray player and a 1080p projector. I can't wait to see what further improvements will come my way and fight my resistance to upgrades. . .
My Home Theater Photo Gallery:
I've created a home theater construction photo album showing my current (version 2.0) and my previous (version 1.0) home theaters in various states of progress. The album includes a brief description of each picture, so you can get an idea of how everything was designed and constructed. Here a some pictures of the completed project: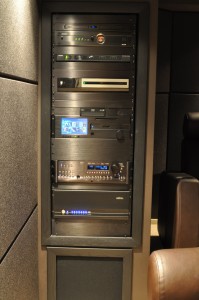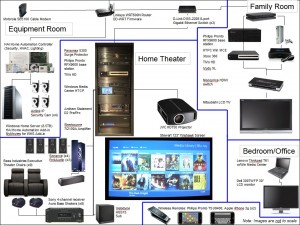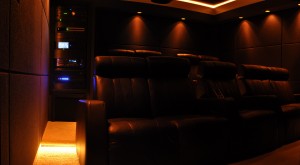 My Movie Collection:
I use My Movies Collection Management to catalog my movie collection and I have it published and viewable online.
Home Theater Personal Computer (HTPC):
I currently use a combination of Windows 7 Media Center and the  to browse and play my movie collection from any HTPC. I currently use Windows 7 Media Center and the Media Browser plugin and sometimes the MyMovies plugin to browse and play my movie collection.  I use Windows Home Server to store all of my movie backups; Slysoft AnyDVD HD is used in the backup process. MyMovies Collection Management for Windows Home Server is used to provide the movie descriptions, cover art, actor profiles, etc., for all of my DVD and Blu-ray backups.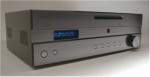 HTPC History: I've been a Home Theater Person Computer (HTPC) enthusiast since about 2000, when I borrowed a VGA projector to display movies on the wall but found the lack of a line-doubler intolerable. So I used PowerDVD to play the movie and purchased a high-end (for the time) sound card to output Dobly Digital audio. I later tried XLobby v2 (by Steven Hanna) as a movie browser interface, in hopes of replicating the $40,000 Kaleidescape system I'd seen demoed at the CEDIA home theater trade show. I also tried TheaterTek DVD player software. When Media Center Edition of Windows XP was released, it became my primary platform.
My Current Home Theater Equipment:
Preamp / Processor: The Anthem Statement D2v is a fantastic high-end preamp / processor.  It has a some of the best audio capabilities available, a built-in high-definition video processor, and some of the best factory support available.  I purchased my D2v directly from Anthem as an upgrade from a D2 I purchased on Audiogon.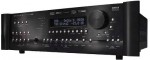 Amplifier: The  Sherbourn 7/2100A does everything I need an amp to do: deliver lots of clean, undistorted power. Pure audiophiles say that the amplifier makes a huge difference in sound quality, but it's my opinion that it has the least effect of any component in a system. This amp delivers 7-channels at a max of 300 watts each, which is way more than my home theater requires. It accepts balanced inputs (XLR connectors) from my Anthem pre-amp and turns on and off automatically. Nothing more, nothing less, and all I need, and maybe then some. I purchased mine from Steve at SoundVideo.com.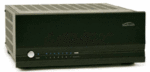 Projector: The JVC D-ILA projectors offer the blackest blacks. I wouldn't consider any other projector for home theater. The optics are very sharp, THX mode give a great out-of-box initial calibration setting, it operates quietly, has more than enough inputs, and is by far the best projector I've ever owned. I purchased my JVC D-ILA HD750 new off of eBay. The projector mount I use is a Chief RPM-223 Elite, with a CMA-006 and CMA-115 ceiling mount and extension pole. It offers a perfect fit, fine adjustment for pitch/tilt/rotation, and a lock for additional security. I purchased the mount components from ProjectorCenter.com and AValive.com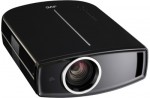 Component
Model
Vendor
Manual
Potential Upgrade








Screen
Stewart Firehawk 123″ diagonal
ProjectorCenter.com
Install Manual
none


DVR
TiVo HD (over-the-air antenna HD broadcast networks only)
none
Media Streamer
Syabas Popcorn Hour C-200 w/internal hard drive and Blu-ray drive added
PopcornHour.com
OTA HD Antenna
Channel Master 3020 UHF/VHF Antenna
Channel Master 9023 Wall Mount for attic mounting
WarrenElectronics.com
none
Remote Control
Philips Pronto Professional TSU9400; RFX9600 IR/RS-232 Base Station (x2)

eBay.com





none
Front L/R Speakers
PolkAudio RT16
Ovation B&M
TBD
Center Speaker
PolkAudio CS350-LS
Ovation B&M
TBD
Side Surround Speakers
Sonance Cinema Ultra II SUR
AudiophileLiquidator
none
none
Rear Surround Speakers
Sonance Cinema Ultra II SUR
AudiophileLiquidator
none
none
Subwoofer
Velodyne HGS 15
Audio Video Today
second subwoofer?
Video Game Console
Microsoft Xbox 360
Circuit City Black Friday Sale

none
HTPC
Self-built, Atech Fabrication 4000 case, Windows 7 Home Premium 32-bit, Gigabyte GA-E7AUM-DS2H motherboard (with NVIDIA 9400 mATX HDMI 8 channel LPCM) motherboard, Intel Core 2 Duo CPU, Blu-ray drive
AtechFabrication.com
NewEgg.com
Asus K8N-e Deluxe
Media Server
Self-built, Coolermaster Stacker case, Windows Home Server, Tyan motherbaord, Areca ARC1230 RAID card, 14 x 2TB hard drives max
NewEgg.com
Tactile Transducers (8 total, aka bass shakers)
Aura AST-1B-4, 50 Hz low-pass FMOD crossover
PartsExpress.com
ast_1b_4_a.jpg
ast_1b_4_b.jpg
none
Amplifier for Tactile Transducers
Old Sony receiver


Power Protection
Panamax Max 5300
LetsGoDigital
Owners ManualOverview
none
Lighting Control
PCS SmartSwitch (Black) x 4, X10 IR543 IR Receiver, X10 Pro PHC02 Maxi Controller
Worthington Distribution
PCS SmartSwitch Manual
none
Video Calibration
Video Essentials [DVD], Digital Video Essentials: HD Basics [Blu-ray]
Amazon.com
none
Audio Calibration
Rives Audio Test CD 2, RadioShack Analog SPL Meter
RivesAudio

RadioShack
OME33-4050.pdf
none
Seating
Bass Industries Executive Lounger-series home theater chairs; motorized recline, Mustang Brown color. (x 9)
Bass Industries
none
List of my Old Equipment:
| | | | | |
| --- | --- | --- | --- | --- |
| Component | Model | Vendor | Manual | Use / Disposition |
| Projector | Sony VPL-HS51 + Chief RPA-102 mount | ProjectorCenter.com | VPLHS51.pdf | sold on eBay |
| Projector | Marantz VP12-S1 | SoundVideo.com | | Sold |
| Satellite Receiver | DishNetwork 4000 | | | Sold |
| Satellite Receiver / DVHS Recorder | JVC HM-DSR100U | | | Sold |
| Television | Toshiba CX35f60 35″ television | Circuit City | | Sold |
| Remote Control | Philips Pronto TSU-1000 | Worthington Distribution | | Sold |
| Remote Control | Philips ProntoPro TSU6000 | | | Sold |
| Remote Control | Philips ProntoPro NG TSU7000 | GoPCPlus.com | My detailed commentary | sold on eBay |
| Remote Control | Philips ProntoPro NG TSU7500 | GoPCPlus.com | My detailed commentary | For Sale |
| Surround Speakers | PolkAudio LS f/x | Sound Seller [info] | | Kitchen "ambience" speakers |
| Television | Panasonic 32″ | Circuit City | | Stolen when moving |
| VHS VCR | JVC 830u | Crutchfield | | Sitting in closet |
| DVD Player | Toshiba SD2108 | PCMall.com | | Gave to my mom |
| Receiver | Pioneer Pro Logic | Crutchfield | | Stolen when moving |
| Receiver | Onkyo TX-DS939 | The Sound Approach [info] | TXDS939om.pdf | Died a loud and painful death |
| Receiver | Anthem Statement D2 | Audiogon classifieds | | Sent to Anthem for repair, replaced by D2v |
| Satellite | Philips DSR6000 TiVo | Direct Connection | | gave away on TiVoCommunity.com |
| Satellite HD | Hughes HR10-250 TiVo | BestBuy B&M | | in closet gathering gust |
| Amplifier for Tactile Transducers | Samson Servo 120a | Sweetwater.com | link | sold on ebay |
| Video Game Console | Microsoft Xbox | BestBuy B&M | | Next Door Neighbor |
| VHS VCR | JVC 830u | Crutchfield.com | | in closet gathering dust |
Room Treatment: 50 custom-made 2'x4′ audio panels; Ownens Corning SelectSound Black Acoustic fiberglass panels, 45-degree beveled MDF 2″ frame, Guilford of Maine (GoM) fabric covering (Style: Spinel 3582, Color: 021 Obsidian)

The fiberglass acoustic panel room treatment was by far the single largest contributor to audio quality.
60% room coverage; 2 layers installed on the front wall and corners

Projector: JVC HD730 1080P projector w/Stewart Firehawk 123″ diagonal screen and Chief micro-adjust projector mount
Custom Home Theater Personal Computer

Microsoft Windows Vista Ultimate 32-bit
Media Browser Plug-in
Arcsoft TotalMedia Theatre Blu-ray player
VMCPlayit client for Windows Media Center
HAI Home Control plug-in for Windows Media Center
Intelliremote remote control software
LogMeIn remote desktop client
Xenarc touchscreen installed in Atech Fabrication rack-mount case
Griffin Technology scroll/select wheel
nVidia 9400-based chipset for HDMI video and 7.1 channel LPCM HD Audio, Gigabit Ethernet
Lite-On Blu-ray drive
TiVo HD TV tuners: not directly controlled by Windows Media Center so no live TV; web-based recording scheduling; automated script downloads recorded shows from TiVo HD, runs commercial-skip, and stores files on the Windows Home Server shared folder for playback in Media Center

TiVo HD

1 TB internal drive upgrade
Over-the-air antenna HD content
Netflix WatchNow, Amazon VOD

Anthem Statement D2 Preamp Processor with Room Correction, HD video switching and processing
Sherbourn 72100A 7-channel amplifier
Panamax Max 5300 surge protector
Velodyne HGS15 subwoofer
PolkAudio front speakers RT16 (x2), CS350-LS (all hidden behind floor-to-ceiling and wall-to-wall frames with speaker grill cloth covering)
Sonance Cinema Ultra II SUR (x4) side and rear surround speakers (in-wall, hidden behind fabric panels)
9 Bass Industries Executive-series home theater chairs; motorized recline, Mustang Brown color
8 Aura bass shakers; Sony 4-channel receiver for amplification
Middle Atlantic Equipment rack and custom rack shelf for TiVo HD, retractable light